Why this Kolaveri creating raze.....
24 Nov 2011, Comments: | Views: 3038 | | Category: Fun, Videos, India Happenings
Click On the Stars to Rate:
5
Five Year Update
So after five years - when facebook reminded me of the 'Kolaveri Di' post on my website - it was a surprise. Never thought that this song was five years old (young). Time really flies. So after almost five years since the song was uploaded - it's official version amassed 112 million views and 471 thousand likes and 36 thousand thumbs down ( you can't expect everyone to like :) ). And there are N number of versions with N number of views..... I wish there will be Ten Year Update, twenty year, thirty year and so on...
Original Post
Amidst stock market crashes and bailout discussion , something found attention- why this kolaveri di?. If you have no idea of "Why this Kolaveri ", then don't hesitate to click the above video and join the millions country wide ( rather world wide).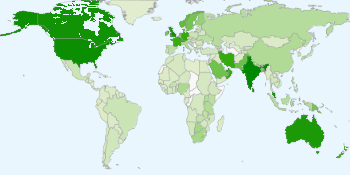 The popularity of the video world wide - the more green the more popular
'Kolaveri di', a song from the upcoming Tamil movie '3', sung by popular Tamil movie star Dhanush has become an internet rage. It is still at the slot no.7 on the youtube video trends of US (ofcourse first in India) even after a week. As i am typing here the video hits are rising exponentially. I think it's craze may be there for few more days. It has already heaped up 3.3 million views and should have reach 4 million mark as you are reading this (it has now touched 23 million mark as on 15th december.)
The promo of the song, which was released on November 16, became an instant hit on social networking sites for its quirky 'Tanglish' (Tamil-English) lyrics.
The promo features the actor-playback singer Dhanush, son-in-law of superstar Rajinikanth, singing the song in a studio, and composer Anirudh at the piano, while wife & the director Aishwarya Rajinikanth and co-star Shruti Hassan watch along and give suggestions.
Apart from the obvious catchiness of the phrase 'Why this Kolaveri di' and the simple folk-ish tune, the fact that the song had broken English lines sung with a thick local Tamil flavour might have something to do with its popularity. "It's probably a rage because of the funny, broken English and some amount of musicality, but I cannot really explain beyond a point," says Anirudh the 21 year old composer. 'Why this Kolaveri di' became the first regional film song to be played by radio stations around the country on Tuesday evening. But Kolaveri, Soup Song... what do these words even mean to someone not familiar with the local slang?
Dhanush tweeted to clarify: "Soup song na [means] love failure song...Doubt clear aa?" Kolaveri is light-hearted slang for blood thirst. So it's no surprise that the song of a jilted boy asking the girl why she did that to him has become an anthem.
Lyrics
yo boys i am singing song soup song flop song why this kolaveri kolaveri kolaveri di why this kolaveri kolaveri kolaveri di rhythm correct why this kolaveri kolaveri kolaveri di maintain this why this kolaveri..di
distance la moon-u moon-u moon-u color-u white-u white background night-u nigth-u night-u color-u black-u
why this kolaveri kolaveri kolaveri di why this kolaveri kolaveri kolaveri di
white skin-u girl-u girl-u girl-u heart-u black-u eyes-u eyes-u meet-u meet-u my future dark
why this kolaveri kolaveri kolaveri di why this kolaveri kolaveri kolaveri di
maama notes eduthuko apdiye kaila sax eduthuko pa pa paan pa pa paan pa pa paa pa pa paan sariya vaasi super maama ready ready 1 2 3 4
whaa wat a change over maama
ok maama now tune change-u
kaila glass only english..
hand la glass glass la scotch eyes-u full-aa tear-u empty life-u girl-u come-u life reverse gear-u lovvu lovvu oh my lovvu you showed me bouv-u cow-u cow-u holi cow-u i want u hear now-u god i m dying now-u she is happy how-u
this song for soup boys-u we dont have choice-u
why this kolaveri kolaveri kolaveri di why this kolaveri kolaveri kolaveri di why this kolaveri kolaveri kolaveri di why this kolaveri kolaveri kolaveri di
flop song
---------------
Few clarifications
Kolaveri - Killer rage or Murderous Rage. "Soup Song" - Love failure Song "Soup Boys" - Boys who failed in love
Subscribe RSS Feed Of Our Blog
Comments: 0