A Hungry Planet Of Billion People
16 Oct 2009, Comments: | Views: 2854 | | Category: Environment
Click On the Stars to Rate:
5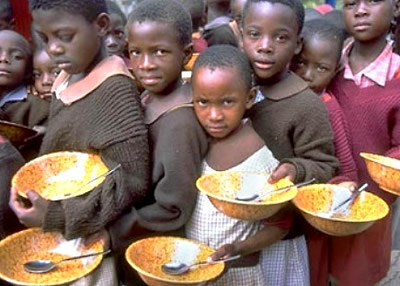 One Billion Hungry Bowls
Updates
1) World Summit on Food Security Starts
One side we humans are exploring for water on the unseen other face of the moon, collecting images of the rings of saturn , but failed to find the "Hungry Planet" which is there here on our own "Mother Earth" .
There are 1.02 billion undernourished people in the world today. That means one in nearly six people do not get enough food to be healthy and lead an active life. Hunger and malnutrition are in fact the number one risk to the health worldwide — greater than AIDS, malaria and tuberculosis combined. Among the key causes of hunger are natural disasters, conflict, poverty, poor agricultural infrastructure and over-exploitation of the environment. Recently, financial and economic crises have pushed more people into hunger. As well as the obvious sort of hunger resulting from an empty stomach, there is also the hidden hunger of micronutrient deficiencies which make people susceptible to infectious diseases, impair physical and mental development, reduce their labour productivity and increase the risk of premature death.
The sharp spike in hunger triggered by the global economic crisis has hit the poorest people in developing countries hardest, revealing a fragile world food system in urgent need of reform, according to a report released today by the UN Food and Agriculture Organization (FAO) and the World Food Programme (WFP).
he combination of food and economic crises have pushed the number of hungry people worldwide to historic levels – more than 1 billion people are undernourished, according to FAO estimates. Nearly all the world's undernourished live in developing countries. In Asia and the Pacific, an estimated 642 million people are suffering from chronic hunger; in Sub-Saharan Africa 265 million; in Latin America and the Caribbean 53 million; in the Near East and North Africa 42 million; and in developed countries 15 million, according FAO's annual hunger report, The State of Food Insecurity, produced this year in collaboration with WFP. ( To Download he Report 'Right Click' Here and select "Save Target As..." Or "Save Linked content As.." )
The food price crisis, dubbed a "silent tsunami" for the world's poor, is far from over. A recent study revealed that food prices are higher than they were 12 months ago in 46 developing countries. In nine of the countries, food prices are the highest on record. The current economic crisis, first felt in developed nations, is now impacting on developing nations too. People living in these regions have much less to cushion the blow of an economic downturn and hunger is on the increase. The combination of high food prices and the economic downturn has the makings of a humanitarian. In the Horn of Africa, where climate change is aggravating the situation, the effects of the two crises are especially harsh. And as the global economic and financial crises compound the food crisis, hunger and malnutrition are likely to increase further.
Some Strinking Data Abut World Hunger -
1.02 billion people do not have enough to eat - more than the populations of USA, Canada and the European Union
The number of undernourished people in the world increased by 75 million in 2007 and 40 million in 2008, largely due to higher food prices
907 million people in developing countries alone are hungry
More than 60 percent of chronically hungry people are women
65 percent of the world's hungry live in only seven countries: India, China, the Democratic Republic of Congo, Bangladesh, Indonesia, Pakistan and Ethiopia
Undernutrition contributes to 53 percent of the 9.7 million deaths of children under five each year in developing countries. This means that one child dies every six seconds from malnutrition and related causes.
What Can Be Done?
The Campaign Video For Billion For Billion Program
Subscribe RSS Feed Of Our Blog
Comments: 1