INS Shivalik India's first indigenious Warship Commissioned-video
30 Apr 2010, Comments: | Views: 3245 | | Category: India Defence
Click On the Stars to Rate:
3.7
Video showing the commission of the INS Shivalik a multi role frigate, which is the largest in its class in the world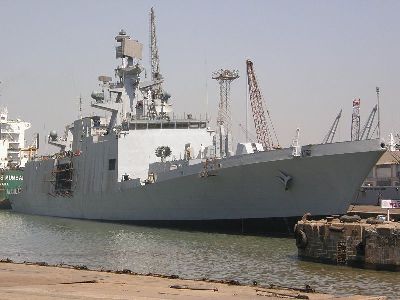 India got its own stealth warship on Thursday when the indigenously manufactured INS Shivalik was commissioned into the Navy by Defence Minister AK Antony in Mumbai on Thursday. Its a lean, mean fighting machine. But what makes it capable of delivering the killer punch is its stealthy nature to catch the enemy completely off-guard. No wonder the warship's crew have a theme song, which goes, "No limits for this baby, indeed, no limits.''
So far India has imported the first three stealth frigates from Russia and three more have been ordered. But now the `no limits' INS Shivalik, with a crew of 30 officers and 250 sailors, has certainly created a lot of buzz. For one, it's India's first indigenously-designed and manufactured stealth warship, even though it has Israeli and Russian missile systems like Barak, Klub and Shtil, and American LM2500 gas turbines. "It's a red-letter day....we are becoming a builder's navy from a buyer's navy, said Antony.
The warship weighs 6000 tons, but can sail the seas nimbler than a shark. The warship can hoodwink the enemy, thanks to a low radar profile.INS Shivalik can stay at sea for upto three weeks without being replenished. But best of all for the crew INS Shivalik has many more on-board facilities than other Navy warships. It even comes with an electric chapati-maker and dosa-maker.
Moreover, with INS Shivalik already having undertaken 23 sorties on the high seas, Capt Suresh is thrilled with its `rock-steady' handling and over three weeks of sea endurance without refuelling. "This ship is bloody stable...that substantially improves my weapon-sensor capability,'' he said.
INS Shivalik, in fact, will now act as the template for even stealthier warships to be built in India. The other two Shivalik-class frigates, INS Satpura and INS Sahyadri, for one, will join the Navy in 2010-2011 under the ongoing Rs 8,101-crore Project-17 at Mazagon Docks. Then, there is the plan to build seven frigates under Project-17A and four guided-missile destroyers under Project-15B, which in all will cost upwards of Rs 65,000 crore. In them, even the weapon systems, including the BrahMos supesonic cruise missiles, will be hidden under the deck for enhanced stealth.
Subscribe RSS Feed Of Our Blog
Comments: 1