It's Five years since the first tweet and Twitter is a Gaint Now
20 Mar 2011, Comments: | Views: 2384 | | Category: Internet News
Click On the Stars to Rate:
0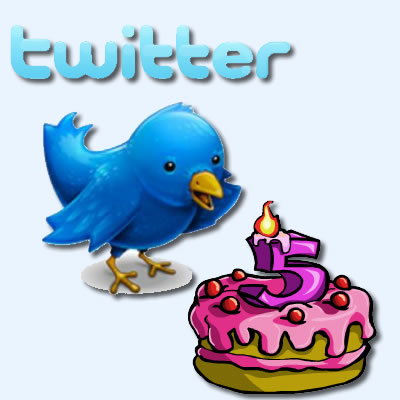 It's Five Years Since The First Tweet
Five years ago, answering a simple question like 'What are you doing?' in 140 characters seemed pointless, even impossible, back then when bloggers took pride over how detailed or nuanced their entries were.
When in 2009, the folks at Twitter changed the vital question that everybody was answering to 'What's happening?' it indeed reflected a shift in how we perceived microblogging. From mundane updates on breakfast, lunch, and dinner, to a snappy tool — thanks to mobile phones — that allowed people to reflect on what's happening around them,
Twitter has come a long way. On March 21, it will be five years since Twitter co-founder Jack Dorsey sent out the first tweet, a short and not-so-chirpy message: "just setting up my twttr."
Creation
Twitter's origins lie in a "daylong brainstorming session" that was held by board members of the podcasting company Odeo. While sitting in a park on a children's slide and eating Mexican food, Dorsey introduced the idea of an individual using an SMS service to communicate with a small group. The original project code name for the service was twttr, inspired by Flickr and the five-character length of American SMS short codes. The developers initially considered "10958" as a short code, but later changed it to "40404" for "ease of use and memorability".Work on the project started on March 21, 2006, when Dorsey published the first Twitter message at 9:50 PM Pacific Standard Time (PST): "just setting up my twttr".
The first Twitter prototype was used as an internal service for Odeo employees and the full version was introduced publicly on July 15, 2006. In October 2006, Biz Stone, Evan Williams, Dorsey, and other members of Odeo formed Obvious Corporation and acquired Odeo and all of its assets–including Odeo.com and Twitter.com–from the investors and shareholders.[18] Twitter spun off into its own company in April 2007.
Stats And Figures
#tweets
3 years, 2 months and 1 day. The time it took from the first Tweet to the billionth Tweet.
1 week. The time it now takes for users to send a billion Tweets.
50 million. The average number of Tweets people sent per day, one year ago.
140 million. The average number of Tweets people sent per day, in the last month.
177 million. Tweets sent on March 11, 2011.
456. Tweets per second (TPS) when Michael Jackson died on June 25, 2009 (a record at that time).
6,939. Current TPS record, set 4 seconds after midnight in Japan on New Year's Day.
#accounts
572,000. Number of new accounts created on March 12, 2011.
460,000. Average number of new accounts per day over the last month.
182%. Increase in number of mobile users over the past year.
The Daily Unique Visitors according to Google Trends is now havering around 20 Million
Subscribe RSS Feed Of Our Blog
Comments: 0