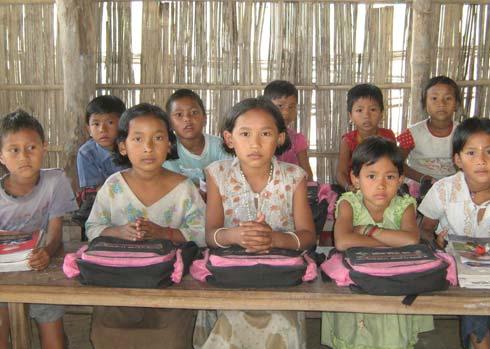 UNICEF and its partners support the primary school in the remote Brahmaputra River Islands.
Juri Gogoi makes her way along a path that twists from the shores of this island on the Brahmaputra River to the school, a 20-minute walk away.
Ms. Gogoi, Education Coordinator with Centre for North East Studies and Policy Research (C-NES), has hitched a ride on the 'Akha', a boat named after the Assamese word for 'hope'. The boat delivers medical services to the isolated island communities along the river – and now provides educational support through 'feeder schools' that have improved access to schooling for island children.
"They are totally separated from the world," says Ms. Gogoi. "If [the islanders] don't educate their children, then how will they survive?" Ms. Gogoi says she had to visit one house at a time to explain the importance of education. Parents were not interested at first, but when they realized that students could potentially get jobs on the mainland, they changed their minds.
"Since last year, girls are coming to school, and coming regularly. Now more girls participate than boys," she says. "The schools are full of students – they want to study."
Families pay 30 rupees, or just over 60 cents, for school costs. About 80 per cent of the fees go to teachers' salaries, while the other 20 per cent pay for school supplies like chalk and paints. The government provides books for free.
UNICEF
works with
C-NES
and the government to provide technical support for the education initiative, which represents the best way to reach isolated communities that otherwise would not have access to basic educational services.
Literacy rates in Dibrugarth District, located on the banks of the Brahmaputra, are on par with the average for Assam State. The rate for boys is 69 per cent, compared to 71 per cent for the state overall. Girls have a rate of 60 per cent in the district, compared to 54 per cent for the state.
Village elder Shiv Shankar Yadav says that students who managed to pursue their education previously had to journey 2 to 3 km to go to school.
"Everybody in the village wanted [a school], and we made it together," he says. "Everything depends on education."
The primary school here was constructed by community members out of thatch over a bamboo frame. About 120 children, aged 6 to 14, sit on burlap sacks in orderly rows on the mud floor, in front of their teacher.
Renu Kumari Yadav's favourite subject is Hindi. The 13-year-old likes to study and hopes it will allow her to get a job on the mainland. Having a school in her own community makes it much easier for her to attend classes regularly.
"This is much better," she explains, adding that previously, "it was very far away, so sometimes I didn't go."