Update :
Opera version 10.52 is released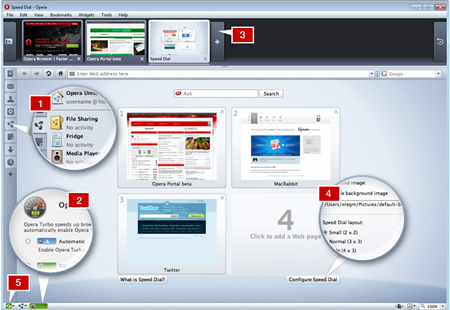 Cool Features of Opera : 1) Opera Unite 2) Opera Turbo 3) Visual Tabs 4) Speed dial 5)Opera Link
Opera today released
Opera 10.10
with Opera Unite, a powerful technology for personal content sharing directly between all your devices. Opera Unite is available as a standard feature in Opera 10.10, available free from
http://www.opera.com
.
Opera promises a new generation web browser " wrapping both a Web browser and a Web server into one package" , Opera Unite challenges the conventional, semi-private methods of sharing the content that really matters to people everywhere.
"We promised Opera Unite would reinvent the Web," said Jon von Tetzchner, CEO, Opera. "What we are really doing is reinventing how we as consumers interact with the Web. By giving our devices the ability to serve content, we become equal citizens on the Web. In an age where we have ceded control of our personal data to third-parties, Opera Unite gives us the freedom to choose how we will share the data that belongs to us."
Here are three things you can do with the Opera 10.10 today:
Have you ever shared 10 GB of photos directly from your browser? Try the Photo Sharing application.
Have you ever streamed your entire music library to another computer, mobile phone or game console? We recommend you try the Media Player application.
Have you ever had time to brew a cup of coffee while you wait for a Web page to load? Opera Turbo speeds up your network connection, giving you eight-times-faster Web surfing over slow connections than other browsers.
Opera's Unique Features
Opera Unite
1)Use applications to share content with others in a quick and easy way.
Opera Turbo
2)Boost your speed with our powerful servers to compress Web pages, so you get them faster.
Visual tabs
3)Drag the handle underneath the tabs to reveal thumbnails of your open Web pages.
Customizable Speed Dial
4)Get easy access to your favorite sites every time you open a new tab. Choose the layout and the background you prefer.
Opera Link
5)Synchronize your Speed Dial, bookmarks, notes and other useful data.
So still Not Convinced to use the new browser - frankly I use all the four browsers - Explorer, Chrome, Firefox and Opera... but none stands before Opera and I simply enjoy surfing web on Opera
Download Link ( Now Version 10.52)