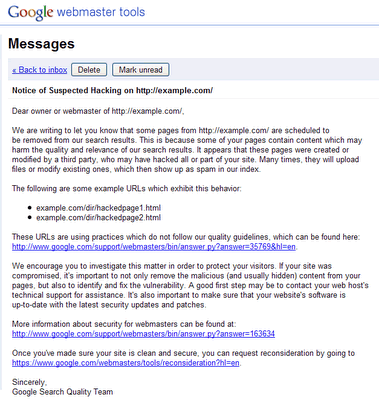 This is how a notice of suspected hacking will look like
You might have seen that while searching on Google you might have come across something like "Visiting this site may ham your computer". And for the sake of heaven sometimes it might been your own website
. Even I faced such a situation. Of course you might not have done anything bad, but it is because your site is hacked or compromised . Actually there are number websites sprouting out every minute. These websites many times depend on the free scripts (which are open-source) for the website's CMS, bulletin boards etc. Some of these scripts may be having security holes which can be easily compromised by any hacker ( actually there are number of free hacking scripts also available) with a minimal knowledge. We will soon updating about website security in this thread.
If you are having a website , then you might be using
Google Webmaster tools
(if you are not using I highly recommend to use it ).It is a great tool . It gives all details about how many webpages of your site were indexed by google. What are the sites that are linking to your webpage. Now google announced in it's blog that from now onwards it will notify webmasters about any hacking or abusive attacks on their website.
In the blog post posted by Jessica Wong and Jason Morrison, Search Quality Team/Google it is said " As we crawl the web, we see bad content inserted on to thousands of hacked sites each day. The number of sites attacked is staggering and the problem is only getting worse. Hackers and spammers target and successfully compromise any sites they can - small personal sites, schools and universities, even multinational corporations. Spam attacks against forums and user content sections of sites, though not as shocking, are even more widespread."
In a bid to provide more useful information to webmasters,google now announces that it will soon be sending even more notifications to the Message Center (
click here
to read a blog post of google on message center).
Starting this month, more webmasters will be notified of more potential issues that have been detected on their websites, including:
Spammy or abused user-generated content
Abused forum pages or egregious amounts of comment spam
Suspected hacking
These notifications are meant to alert webmasters of potential issues and provide next steps on how to get their sites fixed and back into Google's search results. If it pertains to a hacking or abuse issue, the notification will point to example URLs exhibiting this type of behavior. These notifications will run in parallel with our existing malware notifications.