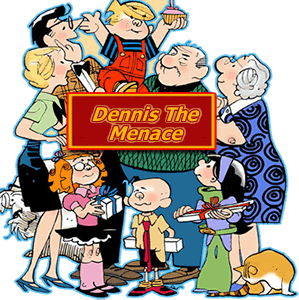 Dennis The Menace now Appears in more than 1000 Newspapers
Dennis the Menace is a daily syndicated newspaper comic strip originally created, written and illustrated by Hank Ketcham. It debuted on March 12, 1951 in 16 newspapers and was originally distributed by Post-Hall Syndicate. It is now written and drawn by Ketcham's former assistants, Marcus Hamilton and Ron Ferdinand, and distributed to at least 1,000 newspapers in 48 countries and 19 languages by King Features Syndicate. The comic strip usually runs for a single panel on weekdays and a full strip on Sundays.
The comic strip became so successful that it was adapted to many other kinds of popular media, including several television shows, both live-action and animated; and several feature films, including theatrical and direct-to-video releases.And overall it is my childhood favorite
Below are ten episodes of the popular cartoon series of Dennis the Menace. All are minimized.
To see a video just click on Show Video or Toggle Video, scroll down for the videos
.. Enjoy and please drop some feedback. For more cartoon series ->
Click Here
Click On the Icons below to Load the Video Here

Video 1: Dennis Yard Sale
Video 2: Fishing For Trouble
Video 3: It Came from Planet Dennis
Video 4: Young at Heart
Video 5: A Visitor From Outer Space
Video 6: Snow Wars
Video 7: Cheer Up
Video 8: The Moroccan Pigeon
Video 9: Dennis of the Jungle
Video 10: A Word From Our Sponsor