INDIAN DEFENCE - THE STRONG SHIELD OF THE COUNTRY
All For Peace----
The above picture shows the display of Indian Missiles in Republic Day Parade...

Indian Missiles Agni -I,II,III , Thrishul ,Nag have proved many times their strength and are in the small to middle ranges. India's recent Agni-III puts India on Fast track for the ICBMs(Inter Continental Ballastic Missiles).

On December 6, 2007, DRDO took a significant step towards developing a Ballistic Missile Defence, when an endo-atmospheric interceptor missile killed "hostile" missile off the Orissa coast. With this milestone, India has joined the elite club of USA, Russia and Israel.

Click Here to know more about India's Integrated Guided Missile Development Programme (IGMDP)..

The Expenditure figures of defence are given below.

The world is shrinking with the advance of technologies and Globaliztion. In this Global village no country can stand aloof, regular interaction and mutual cooperation are most required.In this scenarios peace and development remain the central agenda for India.

The growing menace of terrorism continues to be an area of great concern, where we are facing newer challenges. Our armed forces are geared up to the challenges to meet this asymmetric threat.

ORGANISATIONAL SET-UP

After independence Ministry of Defence was created under the charge of a Cabinet Minister, and, each Service was placed under its own Commander-in-Chief. In 1955, the Commanders-in-Chief were renamed as the Chief of the Army Staff, the Chief of the Naval Staff and the Chief of the Air Staff. In November 1962, a Department of Defence Production was set up to deal with research, development and production of defence equipment. In November 1965, the Department of Defence Supplies was created for planning and execution of schemes for import substitution of defence requirements. These two Departments were later merged to form the Department of Defence Production and Supplies. In 2004, the name of Department of Defence Production and Supplies was changed to Department of Defence Production. In 1980, the Department of Defence Research and Development was created. In 2004, the Department of Ex-Servicemen Welfare was created.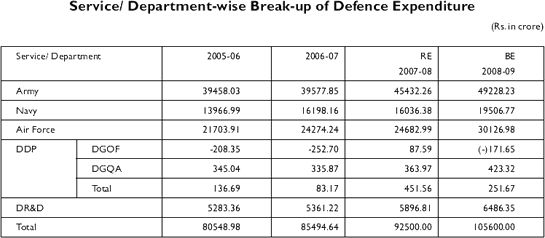 The Break up of Defence Expenditure is shown above. It can be seen how the defence spending. It can be seen how the defence expenditure is escalating. The major chunk goes to Army. With more plans to buy new arms and amutations, the spending is going to increase further and it is estimated that around 2013 India's Defence expenditure will cross that of Britain's Defence expenditure. India's Defence spending is consistently increrasing by 15%, where as that of Britain is increasing around by 1.1%.
A country which is the house of most number of malnutrioned people in world require this much spending on Defence? Yaa definetly required. Our neighbouring environment requires us to have a strong defence....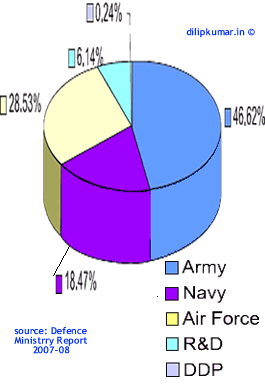 India's security environment continued to be influenced by developments in our immediate neighbourhood where rising instability remains a matter of deep concern. Global attention is shifting to the sub-continent for a variety of reasons, ranging from fast track economic growth, growing population and markets, the untapped socio-economic potential of the region and the growing energy consumption levels. Alongside, some countries in the region have come to be the fountainhead of terrorism, thus inviting close attention of the world. The interests and presence of major powers in this region, coupled with the relative instability in our immediate neighbourhood are a matter of concern to India. India's rapidly growing economy, relative size and strategic location in the region thus brings the country into prominence in the world's geopolitics. India, nevertheless, remains committed to peace and stability in the region, which are fundamental for the continued economic development and prosperity of its people.
Many Milestones in The Never Ending Journey.

Click on the Images to visit the pages of Indian army, navy , airforce.....

The Supreme command of the Armed Forces vests in the President of India. The responsibility for national defence, however, rests with the Cabinet. The Defence Minister (Raksha Mantri) is responsible to Parliament for all matters concerning defence of the country. Administrative and operational control of the armed forces is exercised by the Ministry of Defence and the three Service Headquarters.

The three Services Headquarters, viz., the Army Headquarters, the Naval Headquarters and the Air Headquarters function under the Chief of the Army Staff (COAS), the Chief of the Naval Staff (CNS) and the Chief of the Air Staff (CAS) respectively. They are assisted by their Principal Staff Officers (PSOs). The Inter- Services Organisations, under the Department of Defence are responsible for carrying out tasks related to common needs of the three Services such as medical care, public relations and personnel management of civilian staff in the Defence Headquarters.Below are the links for the three head quarters of Indian Defence-
Visitors Comments
Be The First To Share Your Views