About SCRA
My special mention about SCRA is because, I am member of SCRA 2001 batch (and it's now 2011 batch that is about enter Gymkhana and I am getting old :( ) . A brief info about the SCRA scheme is given below. Comments are invited.
Update- SCRA Exam 2015
So, Dear SCRA aspirants, SCRA Exam was last conducted on 18th January 2015. The next exam will be in 2016 may be in January. For updated and latest information on SCRA examination please visit UPSC website -> http://upsc.gov.in/ . Click Here to Visit the UPSC Online Application Website to fill in and register online for SCRA.
SCRA>>
The SCRA scheme was started in 1927 by the British, to select a handful of most intelligent Indians to assist them in their Railway Operations, after training at their Railway's largest workshop, i.e. Jamalpur Workshop, and for one year in United Kingdom. The selected candidates were required to appear in the Mechanical Engineering Degree Exmination held by Engineering Council (London).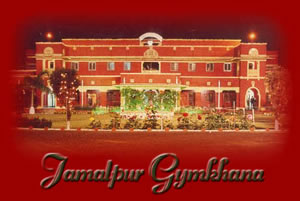 Jamalpur Gymkhana The hostel For Scra
Since then, the few admission seats for one of the country's first engineering college have always been hotly contested, with as many as 1 to 1.5 lakh candidates taking the entrance examination, now conducted by UPSC, for about 10 seats.That translates into an astonishing ratio of 1 selection per 10,000 applicants
The scheme has continued to draw the country's best talent after independence and has provided Indian Railways with its top-ranking officers in all walks. Many of the Institute's alumni have won international accolade for having acheived excellence (Click Here For Achievers Else Where - these links have only old data as new stuff has not yet been updated) in their chosen careers, which include inventors, academicians, entrepreneurs, and high-ranking officers in other nations. Mr . R K Pachauri who is a world famous figure on Climate Change debate belongs to SCRA 1958 batch.
The examination comprises written test in Mathematics, Physics, Chemistry, English Language, General Knowledge, and Psychological Test (Mental Ability). The selected candidates are called for an interview, which is followed by a medical examination. The standard of syllabus is that of Class XII (CBSE equivalent).
The notice for the examination, along with form and syllabus, is brought out by the UPSC around the months of March-April every year. According to the new rules issued by the Ministry of Railways, the exam is now conducted once every two years. And recently UPSC started conducting exam every year
The selected candidates undergo a four-year rigorous training programme in Mechanical Engineering, for which the Institute has a Memorandum of Understanding with BIT, Mesra, Ranchi. The semester system of BIT, Mesra is followed, with workshop training sessions during the holidays at BIT, Mesra.
The apprentices get a stipend in the scale of Rs. 9360-13000 with Dearness Allowance,making the final emoluments upto Rs.13,000/- to 15,000/- , apart from medical benefits, privelege passes and PTOs.
After successful completion of four years of training, the candidates join as Indian Railway Services of Mechanical Engineers (IRSME) Officers in Indian Railways to face a challanging and satisfying career.
Please Click here to Visit the website of Indian Railway Institute of Mechanical and Electrcial Engineering (IRIMEE- The Institute of SCRA) and click here to visit the website of Jamalpur Gymkhana(the Hostel of SCRA).
SCRA Discussion Forum
I made a discussion forum for SCRA (as a part of discussion forums of my website) -> http://dilipkumar.in/forum/viewforum.php?f=66 be part of the forums and clarify your doubts and share about SCRA.