Layman tips - How to Use Google Finance function in Google Spreadsheet to monitor your Equity Portfolio
One thing what this Pandemic had done is it encourage lot of Newbies into investing. My wife who is an housewife also wanted to try her luck in the Equities. One should have Demat account for trading - that is the basic pre-requisite. There are various demat providers like Zeroda, 5 paisa, Upstox etc. Once we make the Demat functional and charged it up with funds, then the real game starts. As we keep transacting, my wife felt a need to give a proper snapshot of the shares on hand and what was already sold out. The apps of demat do provide lot of data, but some how an excel of data will always look better and will help to grasp the data better.
The we started entering the data in Google Spreadsheet. We have entered the stock name, the price at which we have purchased etc. But as you may be thinking , unless current price is not shown in the Spreadsheet , it doesn't give much appreciation. Then I though there would be definitely some way where we can get the data of a particular stock into the spreadsheet. Then I found that there is a function called Google Finance in the Google Spreadsheet. More details -> Click here.
Then I thought , it is great. But I was not able to get the correct data , the examples shown in Google support were also of Foeqign exchanges. Then after few searches and trials I finally could make it work out.
Below are the few examples -
Let us says you want to get the Current price of Castrol India on NSE. (please note that data will be 20 minutes delayed) You have enter following function -
=GOOGLEFINANCE("NSE:CASTROLIND", "price")
Please follow the syntax - don't miss : , " etc. The CASTROLIND is the NSE code for Castrol India.
Now let us suppose you wat to get the Current price of National Plastics on BSE, you have to use this
=GOOGLEFINANCE("BOM:531287", "price")
You see, for BSE, you have to use the numerical code. Then how to get the numerical code, if you just search the company name on Google or BSE website , they will show it . See the below snapshot -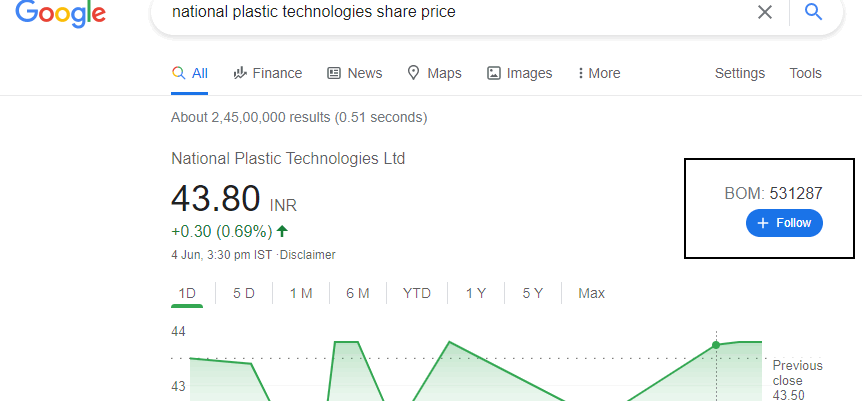 In the above, i just searched for the scrip name on Google and highlighted in the box is the BSE code of the scrip. But while copy pasting the code, please understand that there shouldn't be any space after ":" in the code. Once you get the code and Map them in your spreadsheet - you can easily monitor your portfolio across different service provider apps. But ofcourse you have to manually update the cost at which you have purchased.
Regards!!!