Jyotirlingas
Sri Sailam Mallikarjuna
Mallikarjuna is the name of Shiva in the town of Sri Sailam near the town of Kurnool in the state of Andhra Pradesh in South India. The temple is rich in carvings and architectural wealth. Adi Shankara is supposed to have composed his great poem called "Shivananda Lahari" at this temple. The legend concerning this temple is connected with Karthikeya, the son of Shiva. He had left Kailasa and gone to stay on a hill in south India. Parvati was bereft at the departure of her son and begged Shiva to take her there. Kartikeya refused to let them live on his own hill so Shiva and Parvati took up their residence on the hill at Sri Saila from which spot they could pay periodic visits to their beloved son. An interesting thing here is the sound of buzzing which seems to come from within the granite wall at the back of the temple. Bees are supposed to have made their home here but they have never harmed any of the devotees.
Please Drop your Valuable experiences/comments here- click here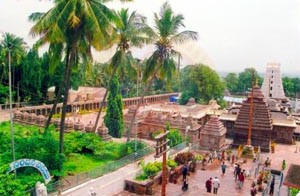 The Srisailam Temple!!!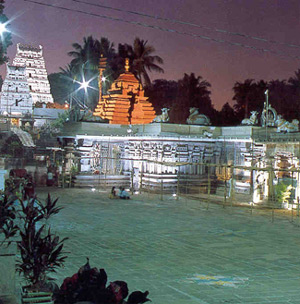 Temple In Lights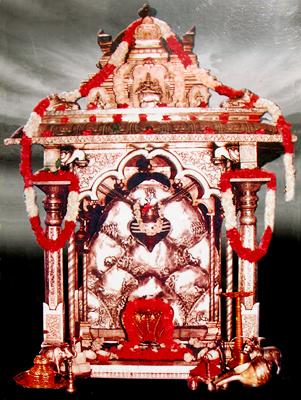 MalliKarjuna Swamy!!!
The Bharambara Devi!!!
Shaila Mallikarjuna's holy place is located on the banks of River Krishna. Here River Krishna is in the form of Patalaganga (underground spring). Lakhs of devotees take a holy dip here and then go for the Darshan of the JyotirLinga.
The Legend of Mallikarjuna Temple
When Kumar Kartikeya returned to Kailash after completing his trip around the earth, he heard about Ganesha's marriage from Narada. This angered him. In spite of being restrained by his parents, he touched their feet in obeisance and left for Krounch Mountain. Parvati was very distraught at having to be away from her son, implored Lord Shiva to look for their son. Together, they went to Kumara. But, Kumara went away a further three Yojanas, after learning about his parents coming after him to Krouncha Mountain. Before embarking on a further search for their son on each mountain, they decided to leave a light on every mountain they visited.
From that day, that place came to be known as JyotirLinga Mallikarjuna. It is believed that Shiva and Parvati visit this palce on Amavasya (No moon day) and (full Moon day) Pournami, respectively. Visiting this JyotirLinag not only blesses one with innumerable wealth, but also name and fame and fulfils all the desires.
Once, a princess named Chandravati decided to go to the Jungles to do penance and meditation. She chose Kadali Vana for this purpose. One day, she witnessed a miracle. A Kapila cow was standing under a Bilwa tree and milk was flowing from all of its four udders, sinking into the ground. The cow kept doing this as a routine chore everyday. Chandravati dug up that area and was dumb founded at what she saw.
There was a self-raising Swyambhu SivaLinga. It was bright and shining like the sun rays, and looked like it was burning, throwing flames in all directions. Chandravati prayed to Siva in this JyotirLinga. She built a huge Shiva Temple there. Lord Shankara was very pleased with her. Chandravati went to Kailash wind borne. She received salvation and Mukti. On one of the stone-inscriptions of the temple, Chandravati's story can be seen carved out.
The Temple:
The temple is 232 km from Hyderabad. A.P. Tourism package tour, APSRTC buses at 7 a.m. and 3 p.m., or private taxis can be hired.Best to go between July and February.A.P. Tourist Saila Vihar rest house and Devasthanam Guest Houses, cottages and choultries.
Till 1957 the place was not easily accessible to the pilgrims as it involved a walk of 64 kms through dense forests and hilly terrains. Now there is a 60 km long motarable road to the top of the 1563-foot high plateau, from Dornal on the Kurnool-Guntur road. It is a pleasant drive on a road lined with green and flowering trees.
Passing through the small town of Dindi one reaches Mannanur from where the Rajiv Gandhi reserve forest starts and so does the climb on to the Nallamalais. After about 10 km drive on the elevated plane one can see the majestic white gopuram of the Srisailam temple. The 512 meter long Srisailam dam across the river and the hydroelectric project is surrounded by natural beauty. One requires special permission to go on to the main dam. Buses and trucks are allowed to go on a road bridge that runs parallel to the dam.
History of Srisailam Temple
During the Karnataka Movement, Chatrapati Shivaji used to come to take a Darshan of the JyotirLinga during the Maharatri. He built a tower on the right side of the Temple and also opened a free-meal center.
The kings of the VijayaNagar Dynasty too built a Temple, Tower, Portico and a pond. Ahelyadevi Holkar, a great devotee of Siva built a strong bathing wharf consisting of 852 steps on the banks of the Patalganga.
Kaasyanatu Maranaanmuktihi Smarana Darunachale||
Darsana Deva Sri Saile Punarjanma Na Vidyate||
Sri Saila Sikharam Drushtwa Punarjanma Na Vidyate||

Meaning:
By facing death in Kasi, reciting Bhagavannama in Arunachalam and just visiting Sri Saila Ksetra, men are attaining salvation or Mukti.