A powerful earthquake measuring 7.2 shakes various parts of Pakistan - tremors felt in India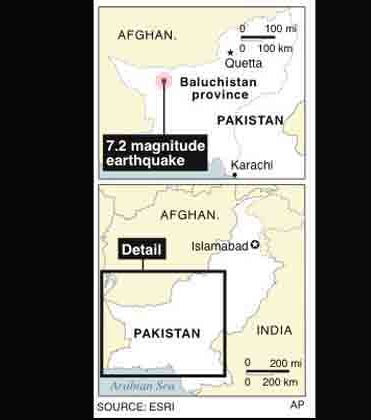 Above Image Showing the Epicenter - Below Image showing people reading verses of the Quran while gathering with others outside their homes as a severe earthquake hits the area in Quetta, Pakistan
In Pakistan, a powerful earthquake measuring 7.2 degree on the Richter scale shook various parts of the country in the wee hours today. It jolted residents of cities as far apart as Delhi and Dubai, but the epicenter was far from major population centres.
The US Geological Survey said, the quake was more than 80 kilometers underground, close to the town of Dalbandin in Balochistan province, near the Afghan and Iranian frontiers. The provincial Transport Minister Amanullah Notizai said, several people were injured in Dalbandin, when the roofs of their houses collapsed, but so far there were no reports of fatalities.
The Pacific Tsunami Center said, the onshore quake had not triggered a tsunami in the Indian Ocean.The quake effect was felt in Delhi, Rajasthan and parts of western Uttar Pradesh and Haryana where people came out of their homes but there were no reports of any damage or loss of life. The quake hit the region at 1:53 AM.

Besides Delhi, the tremors were also felt in Jaipur, Barmer, Jaisalmer and Ganganagar, parts of Haryana and western UP. Slight tremors were also felt in Kashmir.
According to the IMD, the earthquake occurred at a depth of 74 km from ground level. An IMD official said the area is located at the plate boundary of Indian and Eurasian plates, and plate movement was the reason behind the quake.

"Its a plate boundary region and plate activities were the reason behind the quake," the IMD official told IANS.

A 7.6 magnitude earthquake had devastated northern Pakistan and parts of Kashmir in October 2008, killing thousands of people.