Nepal Government holds Cabinet Meeting on Mt. Everest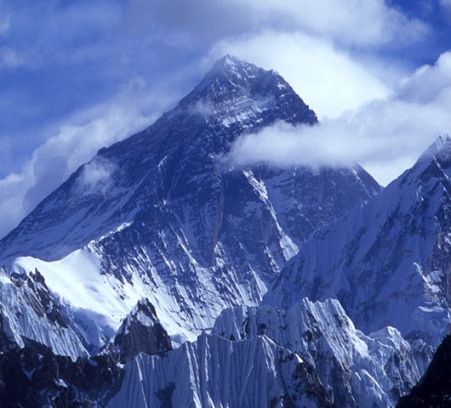 The Peaks The Glaciers which feed many people on the plains are facing the heat
Mt. Everest the highest point on earth , which many adventure enthusiasts try to conquer every year is also one of the geological hot spots with regular tectonic activity and where evidences of damage by climate change are quiet apparently visible .
To highlight the impact of climate change and to attract the attention of world leaders, one week before the Copenhagen Summit on Climate change, Nepal government held a cabinet meeting on the Mount Everest .
Nepal's top politicians have strapped on oxygen tanks and held a Cabinet meeting amid the frigid, thin air of Mount Everest to highlight the danger global warming poses to glaciers.
Ministers hope the world's highest cabinet meeting will attract the same attention as a similar event held underwater in the Maldives in October. Scientific studies show temperatures are rising faster in the Himalayas than the rest of South Asia. It has led to reduced snowfall and caused glaciers to melt.
Before Friday's meeting, teams ferried in medical equipment, oxygen canisters, soldiers and journalists to Kalipatar - a plateau at 5,200m (17,000ft) next to Everest's base camp. Then the entire cabinet of 21 ministers including the prime minister arrived in Kalipatar by helicopter. During their half-hour meeting, the ministers endorsed a resolution on climate change. They then left by helicopter. The trip was funded by a group of Nepalese private organisations, many of them from the tourist sector.
These lofty peaks which are now under the threat of climate change are also a hot spot for adventure enthusiasts who fight the extreme conditions to survive and reach the peak(Click here to have a look at videos of "Surviving the Deadly Adventures of Climbing Everest "), may be a bit of such determination and focus might be required by the whole humanity to fight the climate change.. Click here to have a look at videos of "Surviving the Deadly Adventures of Climbing Everest "