World Summit on Food Security Starts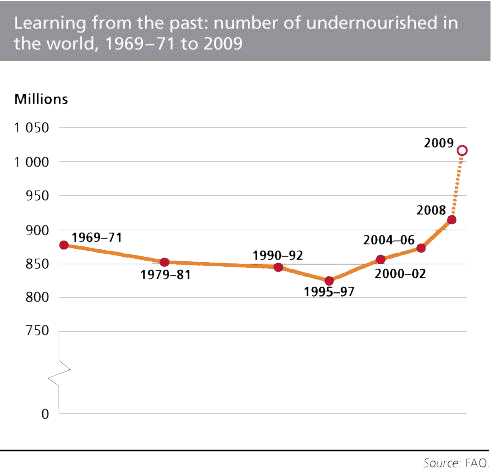 2009 has been a devastating year for the world's hungry, marking a significant worsening of an already disappointing trend in global food security since 1996. The global economic slowdown, following on the heels of the food crisis in 2006–08, has deprived an additional 100 million people of access to adequate food.
"Why should there be hunger and deprivation in any land, in any city, at any table, when man has the resources and the scientific know-how to provide all mankind with the basic necessities of life? There is no deficit in human resources. The deficit is in human will." - Martin Luther King, Jr
A three-day United Nations summit on world food security opened in Rome today, with Secretary-General Ban Ki-moon warning that on this day alone more than 17,000 children will die of hunger – one every five seconds, 6 million a year – even as the planet has more than enough food for all.
As of 2009, FAO estimates that 1.02 billion people are undernourished worldwide. This is the highest number since 1970, the earliest year for which comparable statistics are available.

"Today, more than one billion people are hungry," he told the assembled leaders, calling for immediate action on long-term remedies, a day after he himself fasted for 24 hours in solidarity with all those billion. "It was not easy. But, for too many people, it is a daily reality."

The leaders unanimously adopted a declaration pledging renewed commitment to eradicate hunger from the face of the earth sustainably and at the earliest date. They agreed to work to reverse the decline in domestic and international funding for agriculture, promote new investment, and proactively face the challenges of climate change to food security.
The silent hunger crisis — affecting one sixth of all of humanity — poses a serious risk for world peace and security. We urgently need to forge a broad consensus on the total and rapid eradication of hunger in the world.
Calling the over one billion hungry people in the world "our tragic achievement in these modern days", FAO Director-General Jacques Diouf stressed the need to produce food where the poor and hungry live and to boost agricultural investment in these regions.
"In some developed countries, two to four percent of the population are able to produce enough food to feed the entire nation and even to export, while in the majority of developing countries, 60 to 80 percent of the population are not able to meet country food needs," Diouf said.
"The planet can feed itself, provided that the decisions made are honoured and the required resources are effectively mobilized," he said, calling for an increase in official development assistance to agriculture, a greater share of developing country budgets devoted to agriculture and incentives to encourage private investment.
"Eliminating hunger from the face of Earth requires US$44 billion of official development assistance per year to be invested in infrastructure, technology and modern inputs. It is a small amount if we consider the $365 billion of agriculture producer support in OECD countries in 2007, and if we consider the $1,340 billion of military expenditures by the world in the same year," Diouf said. "Over the past five years, several countries in Africa, Latin America and Asia have succeeded to substantially reduce the number of hungry people in their territories," Diouf said.
"This means that we know what should be done and how it can be done to defeat hunger."
"In low-income food-deficit countries, food security programmes and plans exist and are awaiting political will and financing to become operational," he noted. Diouf also underlined the fact that food security goes beyond production. "We need protection against pests and diseases of plants and animals which often directly affect human health. We have likewise to face emergency situations resulting from natural disasters and to conserve the national resource base of food production to ensure sustainability."
Click on the above image to sign an online petition against Hunger
Please Click Here for "The Discussion Forum On Hunger" to know more about world hunger, the Summit and to share your views.