Health Effects of Social Networking - Good and Bad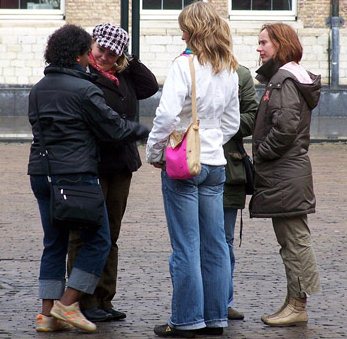 When talking face to face - not only voice and sound but also expressions /feelings / emotions involving all sense organs are exchanged
The human communication has underdone various changes from yester times. From signs and gestures to language- language to writing – writing to pigeon mails – then telegraph – telephone – email – mobile-social networking websites ---- The new technologies enabled interaction between people away by miles but created distance between neighbors. When was the last time you have entered in to neighbor's house for a cup of coffee? Or when was the last time you invited them for a cup of coffee? May be different people have different answers. One more thing that many of us complain is that we don't get enough time to do some jogging, exercises, or for some hobby etc. But how much time we are spending on facebook or any social networking site or on Tv ?
And if you are spending a considerable time of your busy schedule on facebooking, or orkutting or tweeting then read on …
People's health could be harmed by social networking sites because they reduce levels of face-to-face contact, many experts claim.
Dr Aric Sigman says websites such as Facebook set out to enrich social lives, but end up keeping people apart. Dr Sigman makes his warning in Biologist, the journal of the Institute of Biology. A lack of "real" social networking, involving personal interaction, may have biological effects, he suggests.
He also says that evidence suggests that a lack of face-to-face networking could alter the way genes work, upset immune responses, hormone levels, the function of arteries, and influence mental performance. This, he claims, could increase the risk of health problems as serious as cancer, strokes, heart disease, and dementia.
Dr Sigman maintains that social networking sites have played a significant role in making people become more isolated. "Social networking is the internet's biggest growth area, particular among young children," he said. "Social networking sites should allow us to embellish our social lives, but what we find is very different. The tail is wagging the dog. These are not tools that enhance, they are tools that displace."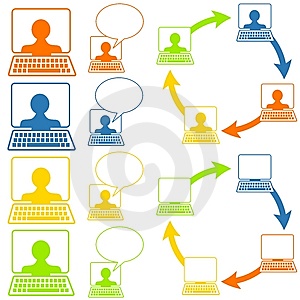 The New Interaction - Is It Men Or Machines that are interacting??
Dr Sigman says that there is research that suggests the number of hours people spend interacting face-to-face has fallen dramatically since 1987, as the use of electronic media has increased. And he claims that interacting "in person" has an effect on the body that is not seen when e-mails are written. "When we are 'really' with people different things happen," he said.
"It's probably an evolutionary mechanism that recognizes the benefits of us being together geographically."Much of it isn't understood, but there does seem to be a difference between 'real presence' and the virtual variety." Dr Sigman also argues using electronic media undermines people's social skills and their ability to read body language.
"In less than two decades, the number of people saying there is no-one with whom they discuss important matters nearly tripled."
One more British scientist has recently suggested that spending all day, and — admit it — much of the night networking on a computer might in fact be bad for your body and your brain.
No less an authority on the brain's workings than Susan Greenfield, a professor of pharmacology at Oxford University and the director of the Royal Institution of Great Britain, told a British newspaper that social networking sites remind her of the way that "small babies need constant reassurance that they exist" and make her worry about the effects that this sort of stimulation is having on the brains of users. Lady Greenfield (she's a neuroscientist and a baroness) told The Daily Mail:
"My fear is that these technologies are infantilizing the brain into the state of small children who are attracted by buzzing noises and bright lights, who have a small attention span and who live for the moment."
One conclusion that some networkers have already come to, though, is that social networking may be killing us in a different way — by adding to our workloads. Yes of course I am also of the view – my enthusiasm for reviving old friendships and retaining newer ones via social networking waiting for their comments on my photos , waiting for their reaction on my puns, seeing what gossiping is going on , managing information about other people's socializing - adds more work to the day to day job.
Everyone of the active social networkers have hundreds of friends and it is hardly ten or even less number of people that they interact and many friends of list are just there to say "Happy Birthday " once in a year or "Happy Married life" once in a life time (of course once per every marriage

) ….
Yes there is other side of the coin too…
BUT….
But in a new study, Damon Centola, an assistant professor of system dynamics and economic sociology at the MIT Sloan School of Management, has reached a different conclusion: People are more likely to acquire new health practices while living in networks with dense clusters of connections — that is, when in close contact with people they already know well.
Researchers often regard these dense clusters of connections to be redundant when it comes to spreading information; networks featuring such clusters are considered less efficient than networks with a greater proportion of long ties. But getting people to change ingrained habits, Centola found, requires the extra reinforcement that comes from those redundancies. In other words, people need to hear a new idea multiple times before making a change may be like "quitting of smoking" , donating to a charity ..
So to conclude - social scientists kept warning people about all the new technological gizmos like tv, mobiles etc.. But not much effect ? Right? may be or may not be - there is a right limit for everything - within the limit even alcohol is great ..
So take care friends - catch you on Facebook