Charlie Chaplin The Legend of Laughs - 122nd birthday- Google Doodles with a live video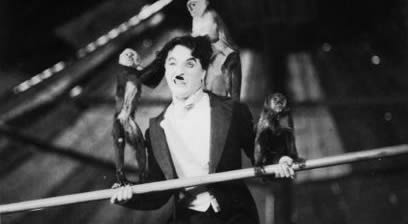 Making People Laugh is not an easy task and is much more difficult in the times of war
Sir Charlie Chaplin wasn't just the greatest star of the silent film era; he also wrote, directed and produced more than 80 movies in a career that spanned decades and included such masterpieces as The Kid, The Gold Rush and Modern Times. He scored many of his pictures as well, and on at least one occasion served as an on-set hairdresser.
His name was the only one which I knew in addition to Michael Jackson from the English Entertainment World till may be 15 years of age. His name is still popular alround the globe. Smiling and Laughing are the special gifts given by the creator to the man kind and Charlie Chaplin may be the one who must have distributed and multipied this gift many folds than any other human.
In 1999, the American Film Institute ranked Chaplin the 10th greatest male screen legend of all time. In 2008, Martin Sieff, in a review of the book Chaplin: A Life, wrote: "Chaplin was not just 'big', he was gigantic. In 1915, he burst onto a war-torn world bringing it the gift of comedy, laughter and relief while it was tearing itself apart through World War I. Over the next 25 years, through the Great Depression and the rise of Adolf Hitler, he stayed on the job. ... It is doubtful any individual has ever given more entertainment, pleasure and relief to so many human beings when they needed it the most". George Bernard Shaw called Chaplin "the only genius to come out of the movie industry". For more on this Legend -> Click Here For Biography articles(On Charlie Chaplins' Official Website)
Videos
Charlie Chaplin's 1st Film Released Feb. 02 1914
Smile- A tribute to Charlie
Making a Living is the first film appearance of Charlie Chaplin, which premiered on February 2, 1914. Chaplin plays a lady-charming swindler, Edgar English, who runs afoul of the Keystone Kops. Chaplin's famed screen persona of "the Little Tramp" did not appear until the film Kid Auto Races at Venice. Click here to Watch More Of Charlie Chaplin's Classics
Google Doodle
Google's Live Video Doodle
Sometimes google tell small stories with Google's logo called doodle, but for Sir Charles Spencer Chaplin's 122nd birthday on, April 16, the Doodle team created something extra fun.On the day the Google homepage will pay homage to Charlie Chaplin's creative legacy with first-ever live action video doodle. Google doodled with an animated song to Celebrate John Lennon's 70th Birthday. The simple, silent short film stars the entire Doodle team (with fellow doodler Mike Dutton sporting that famous mustache, hat and eyeliner) and was shot on location in Niles, Calif., the setting of several of Chaplin's early classics including The Tramp. True pieces of art, Chaplin's films still feel fresh today even though some of them are nearly a century old.