Norman Borlaug - The Father Of Green Revolution!!!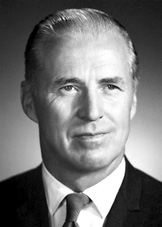 Agricultural scientist Norman Borlaug, the father of the "green revolution" who won the Nobel Peace Prize for his role in combating world hunger and saving hundreds of millions of lives, and who is often credited as the Legend who " saved more lives than any other person who has ever lived" is no more. He died Saturday(13th September) in Texas, a Texas A&M University spokeswoman said. He was 95.
Borlaug died just before 11 p.m. Saturday at his home in Dallas from complications of cancer, said school spokeswoman Kathleen Phillips. Phillips said Borlaug's granddaughter told her about his death. Borlaug was a distinguished professor at the university in College Station.
The Nobel committee honored Borlaug in 1970 for his contributions to high-yield crop varieties and bringing other agricultural innovations to the developing world. Many experts credit the green revolution with averting global famine during the second half of the 20th century and saving perhaps 1 billion lives. Thanks to the green revolution, world food production more than doubled between 1960 and 1990. The countries of Indian Sub continent have benifited from the high yielding varieties. In 1970s when India was importing millions of tons of grain to feed it's people Norman's green revolution is the blessing that came in disguise. In this page we will try to present his biography , his achievements in Brief.
Gallery
Below are the various pictures of Norman Borlaug borrowed from various websites .. click on an image to zoom in place, use arrows to surf through the images..( requires javascript)
Biography
A central figure in the "green revolution", Norman Ernest Borlaug was born on a farm near Cresco, Iowa, to Henry and Clara Borlaug. An eclectic, pragmatic, goal-oriented scientist, he accepts and discards methods or results in a constant search for more fruitful and effective ones, while at the same time avoiding the pursuit of what he calls "academic butterflies". A vigorous man who can perform prodigies of manual labor in the fields, he brings to his work the body and competitive spirit of the trained athlete, which indeed he was in his high school and college days. After completing his primary and secondary education in Cresco, Borlaug enrolled in the University of Minnesota where he studied forestry. Immediately before and immediately after receiving his Bachelor of Science degree in 1937, he worked for the U.S. Forestry Service at stations in Massachusetts and Idaho. Returning to the University of Minnesota to study plant pathology, he received the master's degree in 1939 and the doctorate in 1942.
In 1944 he accepted an appointment as geneticist and plant pathologist assigned the task of organizing and directing the Cooperative Wheat Research and Production Program in Mexico. This program was a joint undertaking by the Mexican government and the Rockefeller Foundation. Within twenty years he was spectacularly successful in finding a high-yielding short-strawed, disease-resistant wheat.
It was on the research stations and farmers' fields of Mexico that Dr. Borlaug developed successive generations of wheat varieties with broad and stable disease resistance, broad adaptation to growing conditions across many degrees of latitude, and with exceedingly high yield potential.
These new wheat varieties and improved crop management practices transformed agricultural production in Mexico during the 1940's and 1950's and later in Asia and Latin America, sparking what today is known as the "Green Revolution.
Impact on India and Asia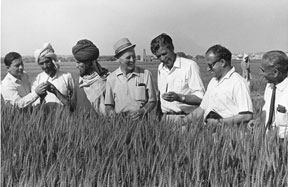 Surrounded by a field of wheat, Dr. Borlaug talks with agriculture experts in India.
Inspired by his breakthrough achievements, the UN Food and Agriculture Organization and the Rockefeller Foundation asked Borlaug to turn his attention to the Middle East and South Asia. The problem of extreme poverty and failing harvests afflicted not only Mexico, but also much of the developing world, and was exacerbated by the post-war population explosion. As Indian agribusiness pioneer and World Food Prize Laureate Dr. B.R. Barwale noted, in the immediate aftermath of World War II, famine and the prospect of mass starvation haunted the Indian sub-continent and other parts of the globe.
The great Bangladesh famine in the late 1940s seemed an ominous harbinger of pandemic starvation which would extract a devastating toll, adding to the more than 160 million people worldwide who had already died of famine or starvation during the previous 100 years.But, much of the developing world was pulled back from the precipice of enormous human tragedy by the scientific pioneers who promulgated the Green Revolution. Leading them was Dr. Norman Borlaug, and the young agricultural scientists he had trained at the Centro Internacional de Mejoramiento de Maiz y Trigo – the International Maize and Wheat Improvement Center (CIMMYT) located outside Mexico City.
Bags of wheat mark Dr. Borlaug's success in helping India attain self-sufficiency in food production
Having overcome great resistance by farmers in Mexico, Borlaug and his compatriots faced the seemingly impossible task of convincing the leaders of both India and Pakistan – two countries bitterly divided – to embrace an entirely new approach to agriculture. Borlaug recalled that going in to speak to these two most powerful political leaders required summoning the same amount of courage as when he stepped on the wrestling mat. But he went forward and presented the options available to the seniormost political leaders of both countries. With the support of Malik Khuda Bakhsh Bucka (then minister of agriculture in Pakistan) and C. Subermanium (then minister of agriculture and food of India) and young scientists like Dr. M.S. Swaminathan, both countries made the courageous decision to adopt Borlaug's breakthrough technology. It arrived just in time to prevent a human catastrophe. By increasing crop yields in Pakistan and India fourfold, the traditionally food deficit countries(during 1960s-70s) became self-sufficient in an amazingly short time, saving hundreds of millions of lives. Indian Governement Bestowed Padma Vibhushan To Dr. Norman Borlaug
Borlaug's achievements in wheat spread throughout the Middle East and North Africa with similar life-saving results. Beginning in the early 1960's, his approach to wheat breeding was introduced in Egypt, Tunisia, Syria, Iran, Libya, Jordan, Lebanon, Turkey, Iraq, Afghanistan, Algeria and Saudi Arabia, in many cases, through young scientists who had studied with him at CIMMYT.
External Links