Remembering Martin Luther King Jr, a great orator and a few video clips
"Life's most persistent and urgent question is, 'What are you doing for others?'"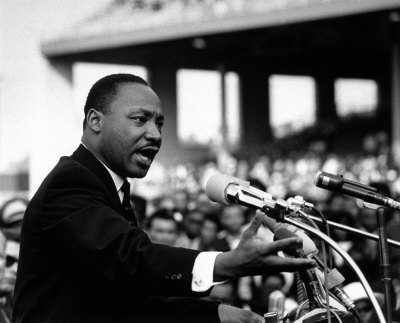 One of the greatest orators in U.S. history
In 1964, King became the youngest person to receive the Nobel Peace Prize for his work to end racial segregation and racial discrimination through civil disobedience and other non-violent means. Martin Luther King Jr. Day is a United States Federal holiday marking the birthdate of Rev. Dr. Martin Luther King, Jr.. It is observed on the third Monday of January each year, which is around the time of King's birthday, January 15 , with community engagement projects occurring all across the US.
Martin Luther King, Jr. (January 15, 1929 – April 4, 1968) was an American clergyman, activist and prominent leader in the African-American civil rights movement. His main legacy was to secure progress on civil rights in the United States, and he has become a human rights icon: King is recognized as a martyr by two Christian churches. A Baptist minister, King became a civil rights activist early in his career. He led the 1955 Montgomery Bus Boycott and helped found the Southern Christian Leadership Conference in 1957, serving as its first president. King's efforts led to the 1963 March on Washington, where King delivered his "I Have a Dream" speech. There, he raised public consciousness of the civil rights movement and established himself as one of the greatest orators in U.S. history.
The presentation Speech of Nobel Prize, (1964) by Gunnar Jahn, Chairman of the Nobel Committee, sums up in brief about the Legendary Martin Luther King Jr. : "He is the first person in the Western world to have shown us that a struggle can be waged without violence. He is the first to make the message of brotherly love a reality in the course of his struggle, and he has brought this message to all men, to all nations and races.
Today we pay tribute to Martin Luther King, the man who has never abandoned his faith in the unarmed struggle he is waging, who has suffered for his faith, who has been imprisoned on many occasions, whose home has been subject to bomb attacks, whose life and the lives of his family have been threatened, and who nevertheless has never faltered. To this undaunted champion of peace the Nobel Committee of the Norwegian Parliament has awarded the Peace Prize for the year 1964."
Videos
Some of the videos of Martin Luther King Jr.. Click on the Title or "Show Video" to see the video. The Video Slides out in Place.
Accepting the Prize Martin Luther King Jr.. said "After contemplation, I conclude that this award which I receive on behalf of that movement is a profound recognition that nonviolence is the answer to the crucial political and moral question of our time - the need for man to overcome oppression and violence without resorting to violence and oppression. Civilization and violence are antithetical concepts. Negroes of the United States, following the people of India, have demonstrated that nonviolence is not sterile passivity, but a powerful moral force which makes for social transformation. Sooner or later all the people of the world will have to discover a way to live together in peace, and thereby transform this pending cosmic elegy into a creative psalm of brotherhood. If this is to be achieved, man must evolve for all human conflict a method which rejects revenge, aggression and retaliation. The foundation of such a method is love."
Gandhian way of Non violence had a profound Impact on King. Inspired by Gandhi's success with non-violent activism, King visited the Gandhi family in India in 1959, with assistance from the Quaker group the American Friends Service Committee. The trip to India affected King in a profound way, deepening his understanding of non-violent resistance and his commitment to America's struggle for civil rights. In a radio address made during his final evening in India, King reflected, "Since being in India, I am more convinced than ever before that the method of nonviolent resistance is the most potent weapon available to oppressed people in their struggle for justice and human dignity. In a real sense, Mahatma Gandhi embodied in his life certain universal principles that are inherent in the moral structure of the universe, and these principles are as inescapable as the law of gravitation." African American civil rights activist Bayard Rustin, who had studied Gandhi's teachings, counseled King to dedicate himself to the principles of non-violence, served as King's main advisor and mentor throughout his early activism, and was the main organizer of the 1963 March on Washington.