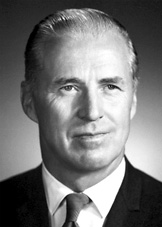 Agricultural scientist Norman Borlaug, the father of the "green revolution" who won the Nobel Peace Prize for his role in combating world hunger and saving hundreds of millions of lives, died Saturday in Texas, a Texas A&M University spokeswoman said. He was 95.
The Nobel committee honored Borlaug in 1970 for his contributions to high-yield crop varieties and bringing other agricultural innovations to the developing world. Many experts credit the green revolution with averting global famine during the second half of the 20th century and saving perhaps 1 billion lives.
Thanks to the green revolution, world food production more than doubled between 1960 and 1990. In Pakistan and India, two of the nations that benefited most from the new crop varieties, grain yields more than quadrupled over the period.
Date: 13 Sep 2009 , Author: / Category: Legends, Science Legends / Views: 10974/Rating:4.1