Perumal in four Avatars - Mukthi sthala-Thiruneermalai - Chennai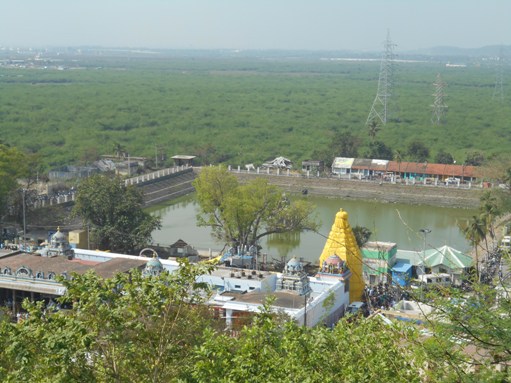 The Base Temple and Pushkarani from the Hill Top

Inspite of living in for almost two years, chennai never stops surprising me with ancient temples. On the night before Vaikunta Ekadasi, I was planning for the next day - which Vishnu temple to visit. Temples which immediately struck the mind are Soundar Damodar Temple, Villivakkam and Parthasarathi Temple, Triplicane. As I have visited both the temples twice, I thought of going somewhere new. A search on google revealed an ancient temple in Thiruneelmalai - suburb of Chennai - after Airport. So the next day morning I set on the bike from my place to Thiruneelmalai (around 31 kms). Being Vaikunta Ekadasi , there was huge crowd. The temple is quiet impressive. Details of the temple below-
Ranganatha Perumal Temple is a Hindu temple in Thiruneermalai, a suburb of Chennai. One of 108 Divya desams; considered as mukthi sthala . Here Perumal (Lord Vishnu) appears in 4 different forms all in one divya desam-
Lord Neervanna Perumal – Nindra Thirukkolam
Lord Narasimhar – Irundha Thirukkolam
Lord Ranganatha – Kidantha Thirukkolam
Lord Trivikrama – Nadantha Thirukkolam
While the Sthalathipadi (presiding deity) is Neervanna Perumal, all utsavams (Celebrations) are for Lord Ranganatha. The complex is in two parts one at the base of the hill for the Staladhipadhi Neervanan (Ninran-Standing Posture), housing shrines of his consort Animamalar Mangai thayar, Kalyana Ramar and Andal. Shrine for Anjaneya (Hanuman) is to the right as one climbs up to the hill shrine. The temple complex up the hill has three shrines for Lord Ranganatha (Kidanthaan – in reclining posture), Trivikrama (Nadanthaan – in walking posture), Lord Narasimha (Irundhaan - sitting posture) and a Shrine for Ranaganayaki Thayar (facing East). It is a double prakaram(outer courtyard) temple. The Garuda shrine faces the Lord. The view from the top of the hill is wonderful.

The Temple atop Small Hillock
Legend
The Legend of this temple is related to Sage Valmiki the author of Ramayan. There are various places/temples in Chennai related to Sage Valmiki - Twin temples (of shiva and narayana) of Koyambedu , Marundeeswarar Temple of Thiruvanmiyur and the other is Thiruneelmalai Temple. There is one Valmiki Temple near Marundeeswarar Temple. The Koyambedu area in the north-west of chennai which houses the Main City Bus Station, Big Vegetable market and also the Chennai Metro Main hub is believed to be the ashram of Valmiki where Sita also said to have lived along with Lava Kusha. As Ayodhya is situated in up North and the Valmiki Ashram was said to be on the Banks of Tamas (Tons) river, I feel may be Valmiki might have come to chennai on his way down south to Lanka along the coast. It is so believed that poet Valmiki, after writing the Ramayana, was heading south along the sea shore and rested at Thiruvanmiyur and thus the name. Not far from Thiruvanmiyur is the Thiruneelmalai Temple (20 Kms away). Hence it seems logical to me that Valmiki might have worshipped Kesava at Thiruvanmiyur and Narayana at Thiruneelmalai.
Brahmanda Purana refers this place Totadri, meaning a mountain surrounded by water. Thiruneermalai, the modern Tamil name also means a sacred mountain surrounded by water. Just like 12 Jyotirlingas where Lord Shiva is believed to have self-manifested, there are eight svyam vyakta Kshetrams of Lord Vishnu - out of which Totadri is one. But the sources on internet point to different places for Totadri - some say it is Thiruneermalai (which the current page is about) , some sources say it as Mangalgiri near vijayawada of Andhra Pradesh and other sources say it as Nanguneri in Thirunelveli of Tamilnadu. Inspite of the confusion, it can be said that it is a rare temple having different forms of Vishnu at place and definitely very ancient. Others are Srirangam in Tiruchi district, Srimushnam in Cuddalore district, Tirupathi in south and Salagramam, Naimisaranyam, Pushkaram and Naraanapuram in north. As this is a hill temple, Giri Valam is observed on Poornima-new moon days.
Sage Valmiki, once desired to have the wedding darshan of Lord Sri Rama. He came to this place and performed penance to achieve his aim. Lord Rama appeared before the sage as he wished with Mother Sita and brothers Sri Lakshmana, Sri Bharatha and Sri Satrugna. The sage wished the Lord to stay in the place for the benefit of all devotees and Lord was happy to oblige him. The sage is in a separate temple at the foot of the hill. As He is in a place surrounded by water (Neer in Tamil), He is praised as Neer Vanna Perumal and the place Tiru Neer Malai – meaning mount surrounded by water. Sage Valmiki as a swayambu appears in a worshipping form in the shrine.
Saint Tirumangai Azhwar came to this place for Perumal's darshan. He could not see Perumal as the mount was surrounded by water. Azhwar decided to wait and have the darshan of Lord and stayed in the opposite hill. Though days moved, water level did not recede. He was steadfast in his determination and waited till the water level lowered, had the darshan. Pleased with His devotee, Perumal granted four darshans to Azhawar – Neer Vanna Perumal standing, Narasimha sitting, Ranganatha reclining and Ulagalanda Perumal in walking postures.
The devotee can enjoy these darshans in the temple. Lord Neervanna Perumal is at the foot of the hills while Ranganatha, Narasimha and Ulgalanda Peruamal are at the hill temple.
Though Lord Narasimha is known for his furious appearance, He is smiling and cool here. After killing Hiranya to save his devout son Prahlada from his tortures, He was still furious. Boy Prahlada was very much afraid of Lord's fury. To make His devotee happy, Lord Narasimha shed His fury and appeared before Prahlada as a smiling boy Himself. He thus became Bala Narasimha. There is a shrine for him in the hill temple.
Behind Bala Narasimha is Ugra (furious) Narasimha with two hands. We can worship Narasimha in two forms Bala and Ugra. Raja Gopuram, Bali peeta and Kodimaram the flag post are generally in a row in temples. Here, the Bali peeta and flag post are slightly away from the Rajagopuram. As Perumal granted darshan to Sage Valmiki as Neer Vanna Perumal and Sri Rama, they are considered prominent in the temple. Therefore, to emphasize their importance, Rajagopuram is before Sri Rama shrine and the flag post before Neervanna Perumal.
One more legned says that After the darshan of Lord in Srirangam in reclining posture, sages Markandeya and Brugu were returning to their places. The darsahn at Srirangam was afresh in their minds. They prayed to Lord to grant them darshan again at this place. Lord granted the darshan as Boga Ranganatha in reclining posture in this place and continues to bless from the hill top His devotees. Abishek is not offered to Him except a Thaila Kappu – applying cosmetic oil on the idol- once in a year in Karthikai month-November-December.
More Information