Tirumala Tirupati Srivari Brahmotsavams - Live Webcast!!!
It is believed that Lord Sri Venkateswara enjoys festivals (utsavams), and therefore, every moment in Tirumala is considered a festive occasion.

The most important festival is the Brahmotsavam.
The Annual Brahmotsavam of Sri Venkateswaraswamy are now being held at Tirumala from 21st September 2009 to 29th September 2009.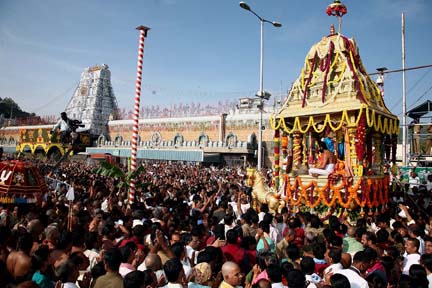 Ankurarpana and Senadhipati Utsavam are celebrated on the day preceding the first day of Brahmotsavam. Image Credit : Tirumala.org

The Brahmotsavam of Sri Venkateshwara as the name signifies, is of high magnitude and voltage. Lakhs of devotees prong the hill temple for a glimpse of the almighty. The Lord roams around the streets of the Tirumala with all elegance and grace. The pilgrims inspite of all the problems and crowds reach the hills to get lost in the bliss of almighty. The schedule of this year programs is given below.
Annual Brahmotsavam Special Programmes
Dwajarohanam 21-09-2009
Garuda Seva 25-09-2009
Golden Chariot 26-09-2009
Rathotsavam 28-09-2009
Chakra Snanam 29-09-2009

And this year Tirumala Temple is live webcasting the festivals. One live is on Sify. The sify website may not work due to traffic sometimes.
Here is the link for live webcast - click here to Go!!!