Hampi - a Heart Touching Experience
It is Vast and Nothing Parallel To It's Glory !!!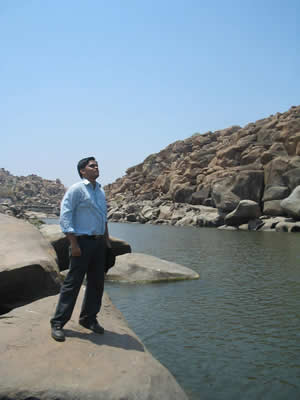 On the Banks of Tungabadra River!!!
The great capital of the Vijayanagar empire exhilarates the visitor. The structures and its art speak of vigour and a zest for life.
The fascinating ruins of the 15th-century city of Vijayanagar, near the village of Hampi, are set in an extraordinary landscape of giant granite boulders, lush paddies and banana plantations. The clock seems to have stopped at this World Heritage site, and you can spend a surprisingly large amount of time gazing at the weirdly balanced rocks, wondering how millions of years of erosion could achieve such formations.
It is a different world. A different environment . Something amusing. Something Unseen. My trip of Hampi for the First time( and second time also) , was really a heart touching and mind blowing experience. No where in India(may be in very few places of the world) there are such wide spread heritage spots basked in the glory of art . And these are all remnants after a Six month plunder and ran sacking by the Invaders.
We Peoples Boast up of our city culture, the modern multiplexes and the shopping malls. But I can say without any pinch of doubt, it is tough matching the skills of those craftsmen who created these wonderful monuments out of tough stones. The immense patience and incredible craftsmen ship they might have put in cutting out intricate designs, Gods, Kings Common People of those hard Granites will make you stare blissfully - unless you are not some rock hearted

.The Gently flowing Tungabadra river which has seen the growth, decline and the massacre of this beautiful empire is still following it's course quiet soothingly.
I visited Hampi in peak summer times and barring few foreigners and some locals the crowd was meager. My self and my cousin Mr. Ravi Chandra explored the remnants of the Great city on a rented bike. The blazing sun has tested our patience but the immense glory of this ancient city kept us going.
Here I try to present our travel experience and some tips in exploring hampi.I also searched extensively on web and gathered some information about this beautiful place, which I don't mind visiting again and again.
We spent from 10am in the morning to 5pm in the evening exploring all the things. But at the end we got to know that we have not covered many things. I have to plan the trip again

Mesmerized by the beauty of the Hampi I made a quick second trip with in a month as a group of six(with my brothers).
Hampi
This once beautiful city ruined by the invaders was submerged in time,until it was rediscovered in 1800.The ruins at Hampi were brought to light in 1800 by an engineer and antiquarian named Colonel Colin Mackenzie. An employee of the English East India Company, he prepared the first survey map of the site. Much of the initial information he received was based on the memories of priests of the Virupaksha temple and the shrine of Pampadevi.
Subsequently, from 1856, photographers began to record the monuments which enabled scholars to study them. As early as 1836 epigraphists began collecting several dozen inscriptions found at this and other temples at Hampi. In an effort to reconstruct the history of the city and the empire, historians collated information from these sources with accounts of foreign travellers and other literature written in Telugu, Kannada, Tamil and Sanskrit.
Given its magical atmosphere, Hampi is a major pit stop on the traveler circuit, with November to March (the cooler months) being the peak season. The ruins cover a wide area, but itís possible to see the main sites in a day or two. However, this goes against Hampiís relaxed grain, so plan on lingering for a while
Hampi belongs to Hospet taluk of Bellary district. Tourists must come to Hospet and then go to Hampi. There are buses to Hospet from all corners of Karnataka. Some trains connect Hospet to Hubli, Hyderabad, Banglore , Tirupati and Miraj. THere are good lodges in Hospet and Hampi.But if you are single or two you can also think of the idea of hiring two wheelers. Various types of Two wheelers are available for rent at Hospet.
Hampi is about 12 Kms from Hospet. The State government runs buses between Hampi and Hospet from six in the morning till eight in the evening. A sight seeing bus is run by thr Tourism Development Corporation. There are two routes between Hampi and Hospet:
One Via Kaddirampura
Other Via Kamalapura
It is better to have a guide book if one wish to travel on foot/ two wheelers on their own as the sites are spread over a large areas. Or else one can hire Auto Rickshaws, Cars, Taxis. But the flexibility with two wheelers in this site is very much cool.

Click Here to Know more about Hampi and various sites of Hampi.....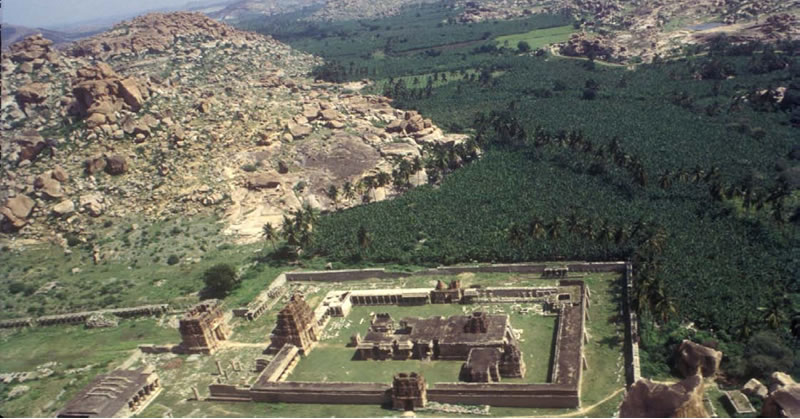 A bird Eye View of Vittala Temple