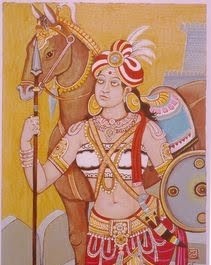 Rani Rudrama Devi
The perception of the history of the past has often been primarily from male point of view. That's why it is called "His"tory rather than "her"story or "their"story. Isn't it? Generally all the historical writings relegated women to background. The activities of men are mostly projected while that of women were ignored and were almost neglected. The administrative abilities of women generally never surface in the history pages. So here I present the life of a Medieval Queen of Deccan - Rani Rudrama Devi...
Date: 18 Nov 2010 , Author: / Category: Indian Legends, Indian Kings / Views: 99872/Rating:4.1
Sri Krishna Deva Raya (1509-1529 CE) was the most famous king of Vijayanagara empire. Presiding over the empire at its zenith, he is regarded as a hero by Kannadigas and Telugu people, and one of the great kings of India. Emperor Krishna Deva Raya also earned the titles Kannada Rajya Rama Ramana Mooru Rayara Ganda (meaning King of three kings) and Andhra Bhoja. Much of the information about his reign comes from the accounts of Portuguese travelers Domingo Paes and Fernao Nuniz. Krishna Deva Raya was assisted in administration by the very able prime minister Timmarusu, who was revered by the king as a father figure and was responsible for his corronation. Krishna Deva Raya was the son of Nagala Devi and Tuluva Narasa Nayakaan army commander under Saluva Narasimha Deva Raya, who later took control of the reign of the empire to prevent it from disintegration. The king's coronation took place on the birthday of Lord Krishna and his earliest inscription is from July 26, 1509 CE. He built a beautiful suburb near Vijayanagara called Nagalapura in memory of his mother.
Date: 28 Feb 2009 , Author: / Category: Indian Legends, Indian Kings / Views: 91519/Rating:3.6 / Comments: