UNESCO prize for use of technology in education unveiled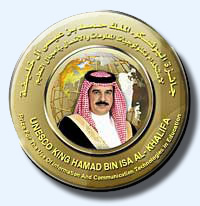 UNESCO King Hamad Bin Isa Al-Khalifa Prize for the Use of Information and Communication Technologies (ICTs) in Education
The Rector (The rector is the highest academic official of many universities and certain other institutions of higher, sometimes even secondary, education. This title is widely used in Europe and Russia) of the Moscow Institute of Open Education and Jordan's Ministry of Information and Communications Techonology(ICT) have been chosen as the winners of an annual United Nations prize for the use of ICTs in education.
They were chosen from among 39 projects in 29 countries by the UN Educational, Scientific and Cultural Organization (UNESCO) for the 2009 UNESCO King Hamad Bin Isa Al-Khalifa Prize.The Prize was launched in 2005 and is placed under the patronage of King Hamad Bin Isa Al Khalifa of the Kingdom of Bahrain.
The winners of the Prize, focused this year on the theme "Teaching, Learning and e-Pedagogy: Teacher Professional Development for Knowledge Societies", were selected on the recommendation of an international jury that met in Paris from 9 to 12 November. Honourable Mentions were also given to Thailand Cyber University (TCU) and to the Red de Profesores Innovadores (Network of Innovating Teachers) of the Fundación Chile.
According to UNESCO "Under the leadership of its Rector, Alexei Semenov, the Moscow Institute of Open Education has provided in-service training to about 30,000 teachers annually for the past 16 years. Professor Semenov has developed exemplary programmes to enable teachers to include ICTs in their work, as well as textbooks and teacher guides used widely in the Russian Federation and other countries. The recipient of numerous awards and a member of the Russian Academy of Sciences and Academy of Education, Professor Semenov actively promotes the central role of ICTs in educational policy and reform in the 21st century's knowledge-driven societies. The other winner is Jordan's Ministry of Information and Communications Technology for its Jordan Education Initiative (JEI), launched in 2003. Through an innovative Public-Private Partnership (PPP), it trained over 3,000 teachers in ICT skills using six e-curricula as tools to enrich the national curriculum. The Ministry selected 100 public schools to test the innovations and provided them with the needed technical infrastructure. The programme disseminates best practices among teachers and encourages the creation of communities of practice." The Director-General of UNESCO Irina Bokova will present the Prize – a diploma and US$25,000 – to each of the two laureates at a ceremony on 26 January 2010 at UNESCO Headquarters.