Brahmos test fired in Steep Dive Mode - Creates a Record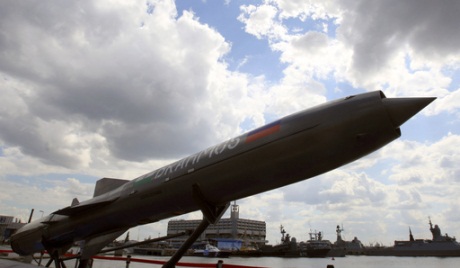 Top - an Image Showing Brahmos
Bottom - A Small News Clip On Brahmos Success
In a major victory for the army, an advanced version of BrahMos block-II was successfully tested from the integrated test range at Chandipur off Orissa coast on 5th September(sunday) .. The highlight of the mission was the missile performing a steep dive at a supersonic speed.This is the first time in the world that a supersonic steep dive manoeuvre has been realised by a cruise missile said the military sources .

After its launch from the Integrated Test Range at Chandipur, off Orissa, and reaching a flat trajectory, the missile dived vertically. The missile performed the manoeuvre when it was flying at three times the speed of sound. Normally, a missile comes down gradually. This is a new capability proved by BrahMos, a product of India-Russia collaboration.

This was BrahMos' 23rd flight.

"It was an important mission. For the first time, a cruise missile was tested at a supersonic speed in a steep-dive mode," said Chief Executive Officer of BrahMos Aerospace Private Limited A. Sivathanu Pillai.

"When you launch a missile, it goes up and reaches a flat trajectory. In this case, the BrahMos dove straight down from its flat trajectory while cruising at a supersonic speed," he said.
The sophisticated cruise missile has been already inducted into the army and navy. A regiment of BrahMos block-I with anti-ship and land-based radio contrast target capabilities is already operational in the army.

The army is looking to induct two regiments of the block-II advanced version in a few months.

Block-II has the capability to precisely hit a small target in a cluster of large targets, as was demonstrated in Pokhran recently, making it even more lethal.
The missile, which derives its name from the Brahmaputra and Moskova rivers, was developed by an Indo-Russian joint venture after the two countries signed an agreement in February 1998. The 8.4m long missile can hit a target at a distance up to 290km. The missile can travel at three times the speed of sound and carry a conventional warhead weighing 200-300 kg.
The cruise missile is capable of being launched from multiple platforms based on land, ship, sub-marines and air, and currently the focus in on for the development of its air-launched and the submarine-launched versions.