Micro-pilot less Lakshya successfully test flown
Indigenously developed micro-light and pilot-less target aircraft Lakshya-1 was successfully test flown from the Integrated Test Range at Chandipur near Balasore on Tuesday.
'Lakshya-1, fitted with an advanced digitally controlled engine was successfully test flown at about 11.40 AM to check the validity of its engine and duration enhancement, defence sources said."It is a routine trial by the users," the sources said.
Lakshya is a sub-sonic, re-usable aerial target system remote controlled from the ground and designed to impart training to both air borne and air defence pilots. The flight duration of the micro light air-craft is usually 30-35 minutes.
The aircraft has been developed by Indias aeronautic development establishment (ADE), Bangalore to perform discreet aerial reconnaissance of battle field and target acquisition.
Lakshya has been inducted in to the Indian Air Force (IAF) since 2000. The trial was significant as Lakshya-11 PTA was successfully flight tested from the same ground on 25th and 27th January.
India's UAVs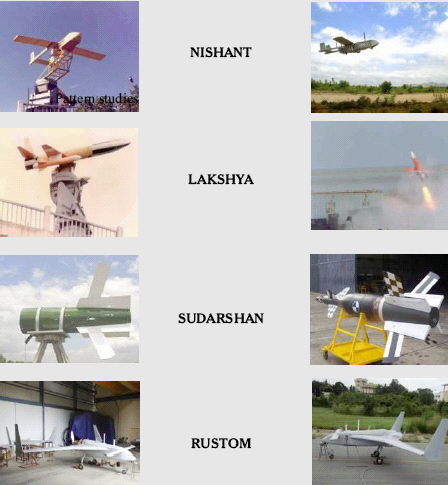 India's Unmanned Aerial Vehicles
Unmanned Aerial Vehicles (UAVs) are important lethal and non-lethal force multipliers in warfare, cost-effective alternatives to manned aircraft in specialized civilian roles and serve as valuable test beds for aeronautical research. UAVs have promising military and civilian applications that include aerial reconnaissance and surveillance, weapon delivery platforms, cruise missiles, border monitoring, law enforcement, anti-smuggling and anti-terrorist operations, weather research, communications, disaster management, pollution monitoring etc.
Currently the following UAV programs are being carried out -
Lakshya Re-usable Aerial Target System
Nishant Surveillance System
Rustom 1
Man portable Fixed Wing Micro Air Vehicle
Air Launched Supersonic Drone System
Controlled Aerial Delivery System(CADS)