When will LCA Tejas take to the Air Force...Views and Videos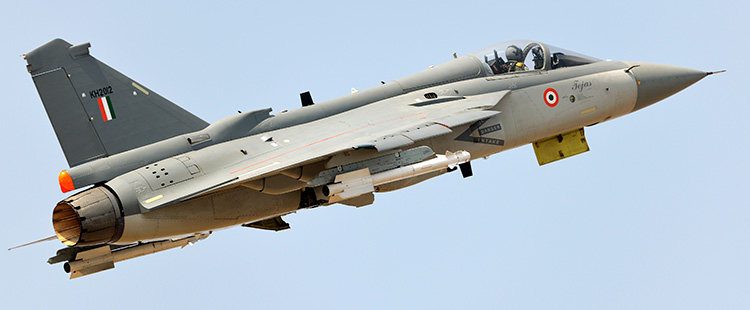 'Tejas' is the smallest , light weight, single engine tactical, supersonic, multirole, combat aircraft, best in its class in the world and is being developed by ADA, DRDO and HAL in single-seat fighter and twin seat trainer variants for the Indian Air Force and Indian Navy. This programe which was initiated in the 1980s crops up in news now and then where critics questioning the delay/capabilities and admirers lauding its strengths/technologies come up in equal voice. I am one of those eagerly waiting citizen of India to see the Tejas flying high bringing laurels to the nation. As I keep searching the web to know what is happening with the Tejas - I am just presenting the information I came across.
Update : Tejas surmonts a major hurdle- gets the much awaited Initial Clearance
The Genesis
Video of Tejas in action throwing bombs and doing sommersaults - I tried to add more flavour by adding MADE IN INDIA song in the background
The LCA programme was launched in the early eighties for two primary purposes. The principal and most obvious goal was the development of a replacement aircraft for India's ageing MiG-21 fighters. The MiG-21 had been the mainstay of the Indian Air Force since the 1970s. The other main objective was to give an impetus for an across-the-board advancement of India's domestic aviation capability.
In the early eighties, it was realised that no organization existed which had the total capability to develop such an aircraft all on its own. The last time an indigenous fighter aircraft, the HF 24 flew was in 1961. Since then, the HF 24 assembly line had been shut down and the design team had been wound up. The only way left was to develop an aircraft from scratch. To better accomplish these goals, the government of India in 1984 decided to establish the Aeronautical Development Agency (ADA) to manage the LCA programme. Hindustan Aeronautics Limited, (HAL) was to be the principal partner with participation of various DRDO & CSIR . Laboratories, Public & private sector industries and academic institutions
The first Technical Demonestrator TD-1 flew on 04 January 2001 with Wing Commander Rajiv Kothiyal on the controls. The significance of this golden-day in the history of Indian aviation can be gauged by the fact that the last time an indigenous aircraft had got airborne was almost 40 years ago on 17 June 1961.
Specifications and Capabilities
Tejas is a Light Combat Aircraft that uses fourth generation technologies. It is built from composite materials, has unstable aerodynamics and is controlled using a fly-by-wire system. Tejas incorporates an advanced glass cockpit. Tejas is an amalgamation of various contemporary technologoies-
Comparision with Pakistan JF-17 and other Aicrafts

Tejas
Other Fighter Aircrafts
Dimensions
JF-17
F-16
Length
13.2 m
14.93 m
15.06 m
Wing Span
8.2 m
9.45 m
9.96 m
Height
4.4 m
4.72 m
4.88 m

Weights

Empty
6500 kg
6586 Kg
8570 kg
Pay load
5300 kgs
3000 Kg
Take off (Clean)
9500 kg
9100 Kg
12000 kg
Take off (max)
13200 Kg
12383 Kg
19200 Kg

Performance Parameters

Max Speed
Mach 1.6
Mach 1.6
Mach 2
Max 'g'
+8g/ -3.5g
+8g / -3g
Thrust/weight
1.07
0.95
1.095
Combat radius
300 km
1352 km
550 km
Service Ceiling
15km
16.92 km
15.24+ km

Power Plant

Engine
GE F404
Klimov D-93
F110-GE-100
Dry Thrust
53.9 kN
49.4 kN
76.3 kN
With after burner
85 kN
84.5 kNs
127 kN
Fly by Wire - Tejas is equipped with a quadruplex digital fly-by-wire flight control system to ease handling by the pilot.Tejas is intentionally made longitudinally unstable to enhance maneuverability. The Control laws (CLAW) recover Stability and provide good Handling Qualities to the Pilot. They also provide invariant response with respect to variation in aerodynamics, fuel etc. and facilitate robust performance. The CLAW is carefree and ensures that various aircraft parameters are limited automatically. This enables the pilot to fly the mission without worrying about exceedence of parameters beyond a safe limit.
Composite Materials - Tejas employs CFC materials for up to 45% of its airframe.Composites are used to make an aircraft both lighter and stronger at the same time compared to an all-metal design, and the LCA's percentage employment of CFCs is one of the highest among contemporary aircraft of its class. Apart from making the plane much lighter, there are also fewer joints or rivets, which increases the aircraft's reliability and lowers its susceptibility to structural fatigue cracks.
Glass Cockpit - The term Glass Cockpit refers to a modern cockpit in which all the round dialed electro-mechanical instruments have been replaced with Multi-Function Displays (MFDs) and a Head Up Display (HUD). A glass cockpit uses several displays driven by flight management systems, which can be adjusted to display flight information as needed. This simplifies aircraft operation and navigation and allows pilots to focus only on the most pertinent information.
Compound Delta Wing - he Tejas is a tailless, compound delta planform. This planform is designed to keep the Tejas small and lightweight. The use of this planform also minimises the control surfaces needed (no tailplanes or foreplanes, just a single vertical tailfin), permits carriage of a wider range of external stores, and confers better close-combat, high-speed, and high-alpha performance characteristics than conventional wing designs. Extensive wind tunnel testing on scale models and complex computational fluid dynamics analyses have optimised the aerodynamic configuration of the LCA, giving it minimum supersonic drag, a low wing-loading, and high rates of roll and pitch.
Multi-Mode Radar - The coherent pulse-Doppler Multi Mode Radar is designed to operate equally effectively in the Air to Air and Air to Surface domains. Jointly developed as an Indian – Israeli venture, it features multi-target Air to Air Track, Hi Resolution Synthetic Aperture Mapping and specialized Air to Sea modes. The radar facilitates all weather employment of a variety of Air to Air and Air to Surface Weaponry, and is the primary targeting sensor on the Tejas.
Open Architecture Computer for Avionics - Open Architecture Computer (OAC) designed and developed by ADA, drives three multi-function displays, HUD and the helmet-mounted display. This open architecture design will allow the designers to continuously adapt and upgrade Tejas to meet the challenges of modern warfare.
The Engine Dilemma and Missed Kaveri
Much of the criticism for LCAs project is about the development of indigenous kaveri engine. The original planned Kaveri Engine is de-linked from LCAs project and is continuing under development stage and seems to be currently out of focus. Some soures siad that LCAs will be fitted with upgraded Kaveri Engines when they are due for Engine change. However it appears that no one is bothered much about kaveri as it appears from Defence Minister's statement in rajya sabha on 14th august - "LCA Programme (Mk-I & Mk-II) has already gone ahead with alternate engine (GE-F404 & GE-F414). Kaveri engine development programme is continuing and dry variant of which will power Indian Unmanned Strike Air Vehicle (IUSAV)." There is no specific mention of Kaveri being planned in future for fitment. However Kaveri proved flight worthy from various trails in Russia. Already developed engine can be utilized for alternate purposes till the engine is made fit for Fighter Jet. DRDO is planning to use it for Unmanned Aerial Vehicles. DRDO along with Indian Navy developed Gas Marie Turbine based on kaveri engine. But nothing is being heard of the engine offlate.
Engines manufactured by US-based General Electric Aviation would be powering these indigenously manufactured LCAs after the global giant won the contract in 2010. After the initial supply of 99 engines (GE F-404 and GE F-414) for IAF and Indian Navy, the rest shall be manufactured by Hindustan Aeronautics Limited in India after obtaining a licence under a transfer of technology agreement. HAL will than manufacture 40 GE F-404 engines in two lots of 20 each for Tejas Mk-I and another 100 GE F-414 engines for Tejas Mk-II.
Tejas Mk-II
The decision to develop a Mk-2 version of Tejas LCA was taken in September 2008, when it became clear that the Kaveri engine would not be ready in time for the Tejas, which would have to be inducted into service with its current lower thrust GE-F404 engine.
The GE-F404 powered Tejas doesn't meet IAF requirements, so a followup version of the Tejas is being developed with a more powerful engine. Ironically, LCA Tejas Mk-2 will be the LCA that the IAF sought to begin with.
ADA and HAL will need to make a few small changes to the Tejas airframe to make the new engine fit. "It meets all the performance requirements of Tejas, like the rate of turn and thrust in all modes," a source told AW&ST. "The first lot of the engines will come by 2014-15 and the rest would be manufactured in India under transfer of technology [agreements]. The first lot of engines would undergo some simple tests and minute modifications before they are fitted to Tejas Mk-II ... The GE F414 would also power the LCA naval variant. In November 2010, AW&ST reported that an ADA team has initiated studies on the Mk.2's proposed operational envelope, fluid dynamics studies of new components and analysis of new engine components. The team is also producing fresh numerical master geometry and inboard drawings, a new digital mock-up of the entire Mk.2, and a wind tunnel model in collaboration with the National Aerospace Laboratory.
Current Status
Sl.No
Flights
First
Till Date
1
TD1
04 Jan 01
233
2
TD2
04-Jun-02
305
3
PV1
25-Nov-03
242
4
PV2
01-Dec-05
222
5
PV3
01-Dec-06
369
6
PV4
7
PV5
26-Nov-09
36
8
LSP1
25-Apr-07
74
9
LSP2
16-Jun-08
282
10
LSP3
23-Apr-10
157
11
LSP4
02-Jun-10
94
12
LSP5
19-Nov-10
213
13
LSP6
14
LSP7
09-Mar-12
53
15
LSP8
31-Mar-13
25
16
NP1
27-Apr-12
4
17
NP2
Total
2309
As per the official website of tejas - After having received the Flight Readiness Review Board's (FRRB) clearance for the flight, the most advanced edition of India's Light Combat Aircraft's (LCA)—Tejas—limited series production-8 (LSP-8) completed its maiden flight on 31st March,2013.
The LSP-8, along with LSP-7 are the configurations marked for the Initial Operational Clearance-2 (IOC-2). LSP-8 is the last aircraft in the Limited Series Production programme. Hindustan Aeronautics Limited (HAL) Chairman R K Tyagi said "the performance of the aircraft, which was flown covering a flight envelop at supersonic speeds at an angle of attack of 20 degree, was flawless.
Tejas is no doubt a reliable and solid deterrent given the fact that LCA-Tejas has completed 2309 Test Flights Successfully till 05th Sept,2013. Air-to-Ground Weapons and Air-to-Air Close Combat Missiles have been released from Tejas. Sea level trials were completed at Arrakonam & Goa. Hot weather trials, in two phases completed at Nagpur. Cold weather & high altitude flight trials carried out successfully at Leh. Phase I of Night flying trials is completed. The additional weapons beyond Visual Range, Gun, Rockets, Guided & Un-Guided Bombs on Tejas are integrated. Tejas has partcipated in detachment in July 2013 and is almost ready for IOC-2. q"The production work has already started at full throttle. Currently there are no bottlenecks to prevent rolling out of the first lot of these indigenously built LCAs by middle of next year," Mr.Avinash Chander told the Media on 31st August. "The production rate, I believe, is around 16-20 per year and huge orders would assist in good production rates," he said.
Although the time frame for getting the initial operational clearance-2 for Tejas has been set as 2013 end, Chander said he was confident that the aircraft will be ready for the clearance by end of September. "Final Operational Clearance (FOC) for our first modern light combat aircraft would follow soon thereafter. Meanwhile, these two processes can go on parallel tracks to save time in delivery and induction once the IOC-2 and FOC are given," said the DRDO chief. For obtaining IOC-2, clearance has to be given at three different levels, including one from the defence minister and another from the chief of air staff.
Tejas soon to fly with Indigigenous Electronic Warfare System
In a recent update Deccan Herald reported that - After eight years of research and postponement, India's first indigenous light combat aircraft (LCA) Tejas, positioned at HAL Bangalore, has finally been fitted with electronic warfare (EW) systems.
Now, new test flights will happen with electronic warfare anytime during November or beginning of December. The test flights of the LCA so far have not had electronic warfare. The new test flights will bring in new data and information for further development of the aircraft and the electronic systems.
Sources in the Defence Research and Development Organisation (DRDO) told Deccan Herald that the LCA Prototype Vehicle-1 (PV-1) has now been fitted with a radar-warning receiver, a radar-warning jammer, laser warner, missile-approach warner, emitter, and a flare dispenser. The systems are now undergoing ground trials with aeronautical engineers simulating multiple threats to the aircraft and then examining its response.The ground trials will take about a fortnight or a month. So, test flights will be held in mid-November or December.
The entire system has been developed by both Indian and Israeli engineers and scientists. One of the main reasons for delay is that the LCA has had a perfect record of test flights and no one wished to risk an add-on on the LCA that had not been tried. The idea was to defend the 'zero crash' record. However after haggling for over eight years, it has been finally decided to install the electronic systems on the LCA prototype Version-1. The PV-1, which began flights in around 2001-02, has completed 242 test flights after which it has been grounded. Now, there is a bit of anxiety about how an aircraft that has not done flights for long will perform with the new electronic warfare systems. The confidence, however, is that the aircraft may perform well because its health has been under check almost daily and every department concerned will certify that all parts of the aircraft are flight-worthy. Without this certification, the PV-1 will not be allowed to fly. But once it passes the certification, the LCA PV-1 will become the first vehicle to fly with electronic warfare systems.
Waiting for THE DAY...
India will eventually spend over Rs 25,000 crore in the entire Tejas programme, including the naval variant and trainer as well as the failed Kaveri engine. But more than the cost, it's the time taken to develop a fully-tested, weapons-ready fighter that underlines how critical defence projects should not be run.
While it is true that developing a supersonic fly-by-wire fighter from scratch was never going to be easy, the entire project could have been managed much better. But better late than never. This Home Grown Aircraft should be given full support from the Air Force and Defence Ministry to see that it is inducted soon. The set dead lines should be adhered strictly. It may be true that Tejas is not matching all parameters set by the Air Force - but evolution and development are continuous processes and can continue after induction of the Air Craft. The LCAs in present configuration are better than MiG21 which they set to replace. They can don the role of support Aircrafts in combats to the Su-30MKI and Rafale or similar Aircrafts IAF set to induct.