India's Own UAV Rustum I successfully tested 5th time
A video of Rustum's maiden successful flight
Indigenously designed and developed RUSTOM-1 made 5th successful Flight on 11th November, while flying at an altitude of 2300 ft AGL (above ground level) & at a speed 100 Knots during 25 minute of cruise near Hosur. It may be noted that this Medium Altitude Long Endurance Unmanned Aerial Vehicle (MALE - UAV) is developed by DRDO with Aeronautical Development Establishment (ADE) Bangalore as the nodal laboratory. It had its maiden flight in 2010. Mr. PS Krishnan, Director, ADE said that the flight was successful as all the modifications done worked well and all the parameters were achieved by the UAV which was weighing 661Kg and the total performance was good. In specific the objective of testing modified lift off scheme, modified altitude and speed hold logics worked excellently well.
Indian Army has shown keen interest in this programme. This UAV has the potential military missions like Reconnaissance & Surveillance, Target Acquisition, Target Designation, Communications Relay, Battle Damage Assessment and Signal Intelligence.
This UAV can attain a maximum speed of 150 Knots, 22,000 ft of altitude and endurance of 12-15 Hours with an operating range of 250 Kms when fully developed.
India's UAVs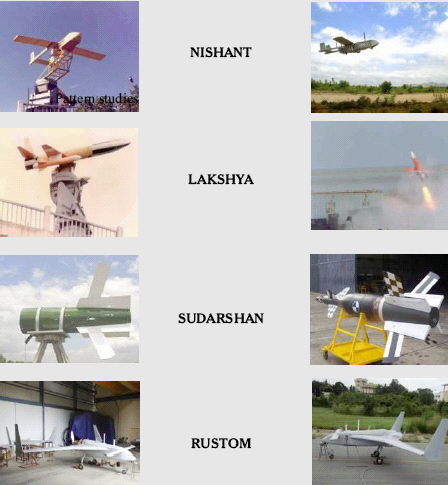 India's Unmanned Aerial Vehicles
Unmanned Aerial Vehicles (UAVs) are important lethal and non-lethal force multipliers in warfare, cost-effective alternatives to manned aircraft in specialized civilian roles and serve as valuable test beds for aeronautical research. UAVs have promising military and civilian applications that include aerial reconnaissance and surveillance, weapon delivery platforms, cruise missiles, border monitoring, law enforcement, anti-smuggling and anti-terrorist operations, weather research, communications, disaster management, pollution monitoring etc.
Currently the following UAV programs are being carried out -
Lakshya Re-usable Aerial Target System
Nishant Surveillance System
Rustom 1
Man portable Fixed Wing Micro Air Vehicle
Air Launched Supersonic Drone System
Controlled Aerial Delivery System(CADS)