Interceptor Missile Test Fired successfully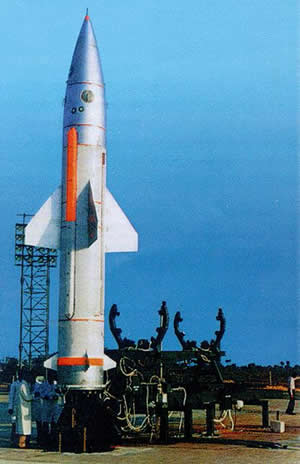 A Prithvi Missile
As part of its endeavour to create a shield against incoming enemy missiles,the indigenous interceptor was fired from Wheeler Island off the Orissa coast near Dhamra in Bhadrak district.
"Aimed at developing a full fledged multi-layer Ballistic Missile Defence (BMD) system, the trial was carried out from two launch sites of ITR off Orissa coast," defence sources said.
Describing the trial as successful, they said the whole exercise is to achieve "desired result with precision".The 'hostile' target ballistic missile, a modified surface-to-surface 'Prithvi', was first lifted off from a mobile launcher around 0933 hours from the launch complex-3 of ITR at Chandipur-on-Sea, 15 km from here.
Within four minutes, the interceptor, Advanced Air Defence (AAD) missile positioned at Wheeler Island, about 70 km across sea from Chandipur received signals from long ranging tracking radars installed along the coastlines, and then travelled through the sky at a speed of 4.5 Mach to a definite altitude over the Bay to destroy it, sources said.
"After the launch of 'target' and 'hit' missiles from their launch sites, detailed results and the 'kill' effect of the interceptor were being ascertained by analysing data from multiple tracking sources," a Defence Research Development (DRDO) scientist said soon after both the missiles roared in to the skies leaving behind a thin white ribbon of smokes.
"While the interceptor designed for endo-atmospheric condition (up to 30 km altitude) is a seven-meter long and single stage solid rocket propelled guided missile, equipped with an inertial navigation system, a hi-tech computer and an electro-mechanical activator under command by the data uplinked from sophisticated ground based radars, the interceptor designed for exo-atmospheric condition is a two stage missile," sources said.
The interceptor missile had its own mobile launcher, secure data link for interception, independent tracking and homing capabilities and sophisticated radars.
This is for the sixth time that the DRDO scientists are testing the interceptor missile. The previous trials were conducted on November 27, 2006, December 6, 2007 and March 6, 2009 from Wheeler Island. The fourth test which was scheduled in mid March 2010 was put-off twice. Due to some technical glitches in the sub-system of the missile, the mission was aborted prior to take off on March 14.
As a safety measure, Balasore district administration has temporarily shifted 401 civilian families, a total of 3221 people, residing within two km radius of ITR launch pad-3 at Chandipur this morning to the nearby shelter centres.