Nuclear Capable Prithvi II missiles tested successfully twice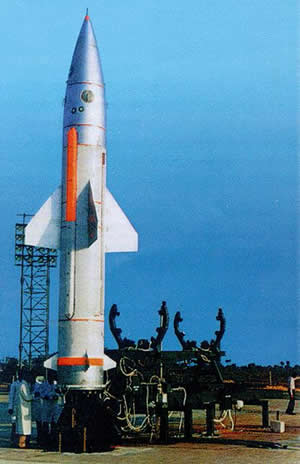 Prithvi Missile
Two nuclear-capable, surface-to-surface Prithvi-II missiles were successfully test-fired within a span of an hour by personnel of the Strategic Force Command from the Integrated Test Range, Chandipur today.

The first missile was fired at 08:15 a..m. and second one at 09:15 a.m. from mobile launchers. Both were launched as part of the user trials and were tested for the full range of 350 kms. 'The tests were done by the armed forces. Both were perfect launches,' Integrated Test Range director S.P. Dash told. All radars, electro-optical tracking systems and telemetry stations along the coast monitored the trajectory parameters of the missiles throughout the mission, he added.

After a flight duration of about eight minutes, the two missiles zeroed on to their predesignated targets with a high degree of accuracy as they splashed down into the sea.

Today's success was preceded by a failure of the same missile when it failed to take off soon after its launch in September last.
Prithvi, the first missile developed under Integrated Guided Missile Development Programme (IGMDP), has the capability to carry 500 Kg - 1000 kg of warhead. It has a length of nine meters with one metre diameter. It is thrusted by liquid propulsion twin engine and uses Advanced Inertial Guidance System (AIGS) with maneouring trajectory and reaches the targets with few metre accuracy.
The missile uses an inertial guidance system with reasonably good accuracy and the warhead uses a radar correlation terminal guidance system. It can target mobile targets including unmanned aerial vehicles. It was already inducted into the Air Force. Prithvi was test tested in 1988 and inducted into the Army in 1994. At present, 10 to 30 missiles are manufactured each year for all versions of the Prithvi.
Integrated Guided Missile Development Programme
Integrated Guided Missile Development Programme (IGMDP) was sanctioned in 1983 for design, development and productionisation of different types of stateof- the-art missiles to provide self-reliance in this field of high technology.The idea of IGMDP was conceived by renowned scientist Dr. A P J Abdul Kalam to enable India attain self-sufficiency in the field of missile technology. Dr. Kalam, the then Director of Defence Research & Development Laboratory (DRDL), headed a Missile Study Team to weigh the feasibility of the programme. The team included members from the Defence Research and Development Organisation (DRDO), the Army, Navy and Air Force, and Defence Production. Keeping in mind the requirements of various types of missiles by the defence forces, the team recommended development of five missile systems - Prithvi, Trishul, Akash and Nag. In addition, development of Dhanush, Agni, BrahMos and Astra series of missiles have also been taken up.