The Indian-Chinese Cold War of Missiles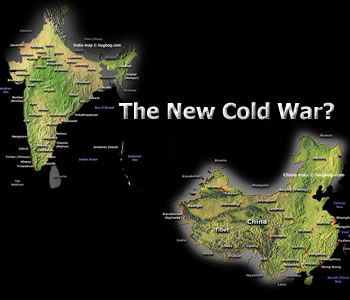 The Neighbours who still couldn't find the Friendly Nerve
As the memories of Cold War of USSR and USA faded long back, to fill the void now comes the cold war of China and India.Though the intensity of this Cold War is much less than what it was between USA and USSR, but the under currents are strong enough and has got enough global focus.
Relations between the two countries have ranged from post-independence bonhomie to armed conflict in 1962 to a state of armed peace. Despite a shared Buddhist religious history and an established trade along the Silk Road, there was historically little political interaction between the two. China is spending 4.3 % and India some 2.5% of their GDP on Military. Both are in the race of making ICBM, IBRMs missiles.
Recently India successfully launched Agni- III missile. In this backdrop addressing a press conference Defence Research and Development Organisation (DRDO) Director V.K. Saraswat said that India's anti-ballistic missile defence programme is ahead of China's programme.
Mr. Saraswat said the country is also gearing to test its indigenous Ballistic Missile Defence (BMD) shield in near future, a programme, he claimed, is more sophisticated than the Chinese one. "This is one area where we are senior to China," he said when asked to compare Indian BMD programme with that of China, which carried out its first test-firing on January 14. He said the Indian programme had started in 2006 and had 60-70 per cent indigenous content in it. Dr. Saraswat said Indian BMD development programme would have two phases. "In the first phase, which goes upto 2,000 km range, we will carry out exo-atmospheric, endo-atmospheric and high altitude interceptions and in the second phase, we will take care of targets beyond 5,000 km range." On the dates of test of the BMD shield, he said it was expected to be carried out within this month. Dr. Saraswat announced that Sunday's test of the Agni- III missile would clear the decks for the induction of the missile into the services. The test, carried out by Strategic Forces Command sets the stage for the induction of nuclear-tipped missile. China had only one missile in the 2500-km category, the DF-21 and was now focused only on building intercontinental range missiles (ICBMs) of the DF-31 and DF-41 in the 6000- 10,000 km range. "But our accuracies are better than the Chinese missiles," Dr. Saraswat said. China, in January 2007, had displayed its anti-ballistic missile capabilities while knocking out a disused satellite in space. This was the world's first declared A-SAT test. Earlier in January, the Chinese declared that they had successfully tested a ground-based mid-range anti ballistic missile. "China only had the building blocks for an ATBM," Dr. Saraswat said. "We started our ATBM programme in 1999 and in terms of capabilities, we are way ahead of them," he added. Dr. Saraswat said India had perfected the building blocks for an A-SAT weapon but there were no plans to field any such system.
China May be having a different version to say. But the situation is definitely not inviting. The damages done by the First Cold War are still live in Many Countries. North Korea and South Korea which parted their ways at that time are still fighting. South Asia is such a hostile zone surrounded by more hostile zones of Middle East. Both leading nations have to act with constraint and instead of running for arms it will be better to run for Peace. ( To be updated ....)
(Src:The Hindu and The Encyclopedia Of India)