Ahmedabad Gets India's First BRTS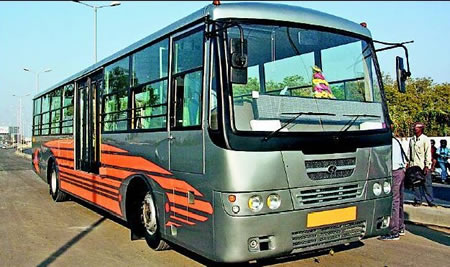 The swanky low-floored buses promise a comfortable 38-minute ride on the 12.5-km
Ahmedabad BRTS is a highly ambitious rapid transport system developed by Gujarat Infrastructure Development Board (GIDB), recognizing that no single mode would cater to the mobility needs of the city and that 'Bus' forms the most critical segment of the public transport system in the Ahmedabad city. GIDB has thereby entrusted the system design task to CEPT University. A part of first corridor connecting Pirana to R.T.O. was put open to public on October 14th 2009 by Chief Minister Narendra Modi.
With the launch, the city now gets around 25 BRTS buses plying on a 12.5 km stretch from RTO to Chandranagar of the total 55 km of phase one. At a project cost of Rs 80 crore, the 12.5 km long first section of phase one was launched by Narendra Modi, chief minister of Gujarat from Chandranagar.
"This is the first such full fledged BRTS project in the country because similar projects in Delhi and Pune do not carry systems like control room, IT infrastructure, dedicated buses, etc. The Delhi BRT, rather, is primarily a road infrastructure project or high-capacity bus service in which all types of buses run in a lane designed for the BRTS," said Dilip Mahajan, deputy municipal commissioner, Ahmedabad Municipal Corporation (AMC).
The BRTS launch will encourage Amdavadis to move from conventional means of transportation to a modern intra-city commuting system. Points of entry for passengers are the vibrant bus stands that dot the BRTS corridor at 500-metre intervals. The 7.5 metre-wide BRTS corridor has been segregated from the rest of the road by green-yellow metal fencing on both sides.
The Reaction by general public also seems good on the first day of ticketing.
The first day collection from BRTS services in the city was put at Rs 50,000 till 4 pm. Deputy municipal commissioner and in charge of BRTS UC Padia said, "More than 9,000 passengers have travelled on BRTS buses till 4 pm on Thursday and we have collected over Rs 45,000 from ticket sale. The response has been overwhelming for the BRTS services in the city on the first day of its formal launch."
There are many BRTS (Bus Rapid Transit System) planned in many Cities from Delhi to TIER cities like Vijayawada, visakhapatnam(Andhra Prasdesh) but none of them moved any further. Ahmedabad stands ahead in this matter being the first to make a run ...