India's Mars Mission Cruising on Precise Trajectory after successful corrections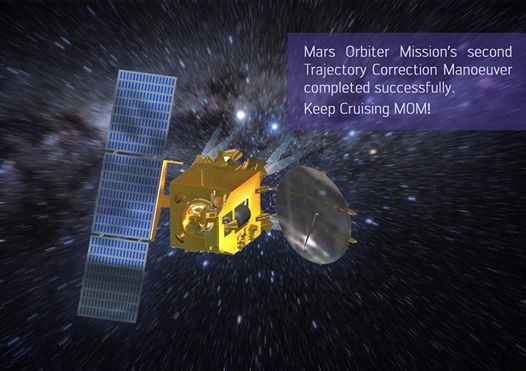 ISRO's Mangalyaan is all set for rendezvous with Red Planet on September 24
The Indian Space Research Organisation (ISRO) kept its ambitious Mars Orbiter Mission on sound footing when its ground controllers successfully corrected the spacecraft's trajectory on Wednesday (11th June). This complex trajectory correction manoeuvre (TCM), as it is called, puts the spacecraft on the right celestial path to reach Mars on the scheduled day of September 24.
It all started when the Mars Orbiter Mission (MOM) probe lifted-off from the First Launch Pad at Sriharikota, Andhra Pradesh near Chennai, using a Polar Satellite Launch Vehicle (PSLV) rocket C25 on 5 November 2013. On December 01, 2013, Trans Mars Injection manoeuvre was conducted successfully and the Spacecraft was set in its course towards Planet Mars through a helio-centric trajectory. Soon after the Spacecraft crossed the sphere of influence of Earth, a Trajectory Correction Manoeuvre (TCM) was performed successfully on December 11, 2013.
On April 09, 2014 at 9:50 am IST, India's Mars Orbiter Spacecraft crossed the half-way mark of its journey to the Red Planet along the designated helio-centric trajectory.
ISRO has been continuously monitoring the Spacecraft using its Deep Space Network complemented by that of NASA-JPL. As the Spacecraft is on its designated trajectory, the TCM planned for April 2014 was not considered essential. And the same is carried today on 11th June.
The ground controllers at the ISRO Tracking, Telemetry and Command Network (ISTRAC), Bangalore, corrected the trajectory by radioing commands to the four thrusters of the Orbiter to fire for 16 seconds from 4.30 p.m. The thrusters did so, imparting an incremental velocity of 1.57 metres a second to the spacecraft for its rendezvous with Mars.
ISRO Chairman K. Radhakrishnan said the TCM was "precisely done" and "we operated four out of 22 Newton thrusters for 16 seconds" which gave the spacecraft an incremental velocity of 1.574 metres a second. "Reviews are under way. All systems on the Mars Orbiter are normal," Dr. Radhakrishnan said.
"Everything went perfectly well," said M. Annadurai, Programme Director, Indian Remote-sensing Satellites and Small Satellites Systems, ISRO. "We are happy because this is, in a way, a simulation for the crucial Mars Orbit Injection (MOI)" that would take place on September 24.
"The MOI will be exactly similar to this except that we fired four small Newton thrusters today. But we will fire the 440-Newton liquid engine [propulsion system] of the spacecraft for the MOI," he said.
Dr. Annadurai added: "We could not watch today's manoeuvre because the spacecraft's orientation will not allow us to see what is happening. Telemetry was not available. The entire manoeuvre was done in the auto mode."
Mangalyaan is currently travelling with a velocity of 28 km/s or about 100,800 kilometres per hour. It is now the fastest and farthest ever-traveling Indian object in space. It is so far away that it takes a radio signal almost five minutes to travel from Bangalore to the Mangalyaan.Every day that this little spacecraft operates is a step farther into space for India than ever before.
aap ki yatra mangalmay ho