Brahmos Fit to Be Inducted - Army and Stamp by Post!!!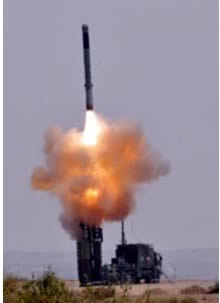 The Army on Monday gave the green signal for the induction of the new version of the BrahMos supersonic cruise missile, which has been developed to act as a precision-strike weapon in a "clustered urban environment''.




Army vice-chief Lt-Gen Noble Thamburaj said the third test of the 290-km-range BrahMos Block-II missile, the first test of which had failed on January 20, at Pokhran on Sunday had been analyzed to be "extremely successful''.



"Accuracy was the watchword. We had wanted them (BrahMos Aerospace) to include a new sensor in the missile. That is what these last three trials were all about. Because more than the naval version, in Army, we wanted the missile to distinguish between similar kind of targets in urban areas,'' he said.



"The process of induction will now start. After carrying out the three field trials, the Army is absolutely satisfied,'' he added, on the sidelines of a seminar organised by Centre for Land Warfare Studies (CLAWS).



Both Army and Navy are already inducting the BrahMos Block-I missiles. While Army has ordered two BrahMos regiments in the first phase at a cost of Rs 8,352 crore, with 134 missiles, 10 road-mobile autonomous launchers on 12x12 Tatra vehicles and four mobile command posts, the Navy has ordered 49 BrahMos firing units at a cost of Rs 711 crore.
The Army vice-chief said it was important to possess both short and long-range artillery weapon systems because the battlefield was "no longer linear''. "We got to apply our firepower on targets in depth with our special forces operating there during battle. So, longer range weapons give the commander greater flexibility,'' he added.



As reported earlier, the eventual plan of armed forces is to have nuclear-tipped land-attack cruise missiles with strike ranges in excess of 1,500 km.


Stamp Released on Brahmos
Commemorative Stamps on BrahMos Missile were released by Indian Post depicting the high level technological marvel of India. The development of the supersonic missile was a huge step forward as they were vital as first strike weapons, Shivantu Pillai (CEO , BrahMos Aero Space) said at theinteractive meeting on hosted by the Tiruchi Philatelists Association.
He expressed gratitude to the Department of Posts for recognising the DRDO's efforts by bringing out stamps on the BrahMos missile. "Stamps were historical records and we are much obliged to the Department," he said.
Source: TOI & Hindu