Havoc at ram lila maida - Baba Ramdev Missing- Is he arrested??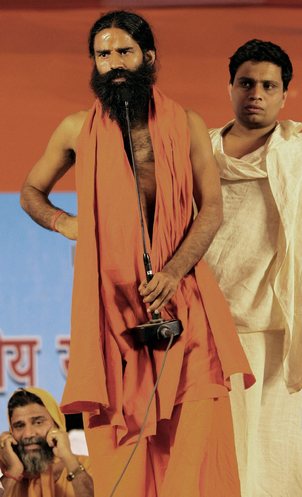 One of the most striking speeches made by Jawhar Lal Nehru when India got Freedom - " At the stroke of Midnight hour , when the world is sleeping.. India awakens.." . And being a weekend I was just awake to see one the most unwarrented unhappy happenings against democracy. Around 0100 hrs , when most of the people are about to sleep switching off the TVs - started the drama .
Chaos prevailed at Ramlila Ground - the site where Mr Ramdev is holding his protest against corruption - at around 1.10 am when the police moved in huge numbers and surrounded the area. The police were there to take Mr Ramdev away from the protest site and leave him outside the city limits of Delhi.
Sources say Mr Ramdev was sleeping on the stage when the police reached; they woke him up to tell him that they are here to escort him out of the area. But Baba Ramdev jumped off the stage and mingled with his supporters.
When he once again reached the dais, cops tried to zero in, and that is when all hell broke loose. Supporters first formed a ring around Baba Ramdev to prevent him from being arrested, and then started throwing stones at the policemen. Some of the protesters were injured in the incident.
Banners were torn, mattresses and furniture lied all over the site. Parts of the stage also caught a minor fire that broke out during the melee.
The cops then fired tear gas to disperse the crowd. And within minutes, Ramlila Ground, the crowded epicenter of Baba Ramdev's protest against corruption where thousands had gathered to fast along with the Yoga icon, wore a deserted look.
A police vehicle was seen entering the site, while Rapid Action Force (RAF) personnel were seen taking away some of the supporters from the site.
Baba Ramdev, meanwhile, left the area with some of his supporters. Police Commissioner, however, said Mr Ramdev has not been arrested, he has been taken to safe place.
But before leaving, Mr Ramdev addressed his supporters urging them to maintain calm and do not resort to violence.
"I am with my people and will remain here till my last breath," he said.
No idea how the things will turn tomorrow morning