181 Million People added in the last decade - and Indian Population is now 1.21 billion
A World Graph Showing the Upward trend of Indian Population.. The Growth declined.. But it is still steep
India has added 181 million new people to its population over the last decade, according to the results of the 2011 census.
Call it Population Explosion, population catastrophe , or human resources blast - Indian population is up up on the way. 181 million new heads were added to the population in the last decade.
India's population is now 1.21bn, which is bigger than the combined populations of the US, Indonesia, Brazil, Pakistan and Bangladesh.India launched the latest census exercise last year.The growth rate in 2011 is 17.64 per cent in comparison to 21.15 per cent in 2001.Among the states and Union territories, Uttar Pradesh is the most populous state with 199 million people and Lakshadweep the least populated at 64,429.
The combined population of Uttar Pradesh and Maharashtra is bigger than that of the U.S.
The highest population density is in Delhi's northeast district (37,346 per sq km) while the lowest is in Dibang Valley in Arunachal Pradesh (just one per sq km). Child sex ratio in 2011 is 914 female against 1,000 male — the lowest since Independence.
According to the data, literates constitute 74 per cent of the total population aged seven and above and illiterates form 26 per cent. The literacy rate has gone up from 64.83 per cent in 2001 to 74.04 per cent in 2011 showing an increase of 9.21 per cent.
Some 2.5 million officials visited households in about 7,000 towns and 600,000 villages.
Click Here to download the Pdf of Provisional Census Figures of 2011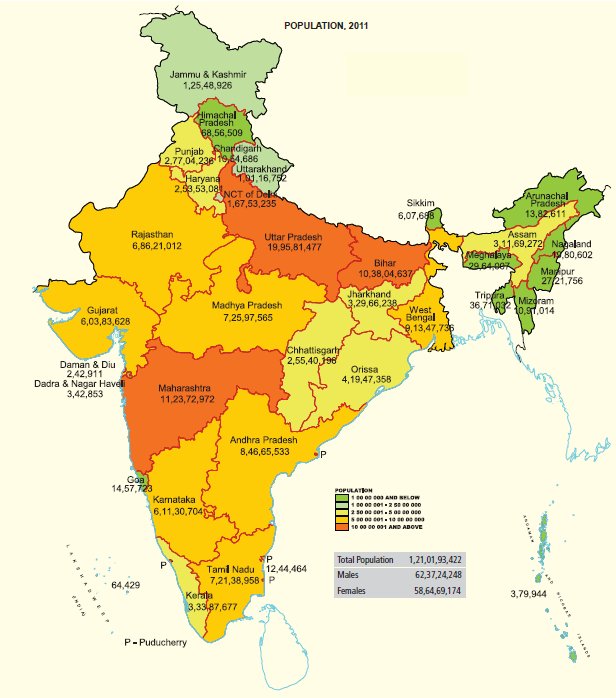 India Population 2011