Atlast after 63 years of Independence Indian Children get Right To Education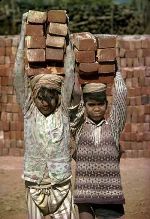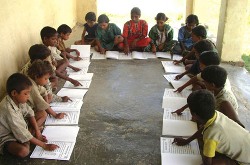 A step towards transformation from Bricks to Books
Better late than never - this is what we can say about the recently approved Right To Education bill. India got independence on 15th Aug, 1947 and today is 3rd april , 2010 means it took 63 years for our democratic politicians to introduce a bill which deserves to be the first bill of Independent India. Any how at least now a positive move has been made and it is highly commendable.
The landmark law which makes education a fundamental right for all children between six and 14, has come into effect. But many challenges lie ahead in ensuring access to education for all in a country with the world's largest number of young people. The number of children who are out of school in India is staggering, an estimated eight million of them. Many of them are girls, who often stay out of school to do household chores or look after siblings.
India's literacy rate is 64 percent. But studies have shown that a number of those counted as literate can barely read or write. It requires no Economics knowledge to say that - quality education is critical for a country where one third of the billion-plus people are under 15 and where, despite a booming economy, many people are still (very) poor.
The Bill, one of the flagship programmes in the 100-day agenda of the UPA government, also earmarks 25 per cent seats to weaker sections in private schools.
Prime Ministers' Address
While the Rajya Sabha okayed the Bill earlier, the Lok Sabha putting its seal of approval on 30 th March 2010, the groundbreaking Right to Education law came into effect 1st April 2010, Prime Minister Manmohan Singh made a rare address to the nation to express his government's commitment to ensuring education for all children.
The prime minister, who came from a rural area and went on to do a doctorate in economics at Cambridge, recalled his own story to emphasize the importance of putting all children in school.
"I was born to a family of modest means. In my childhood I had to walk a long distance to go to school. I read under the dim light of a kerosene lamp. I am what I am today because of education. I want every Indian child, girl and boy, to be so touched by the light of education," said Prime Minister Singh.
A new Era
HRD Minister Kapil Sibal described it as "harbinger of a new era" for children to meet the challenges of the 21st century. He said the Bill is a "historic opportunity" for providing better future to children of the country as there was never such a landmark legislation in the last 62 years since independence. "We as a nation cannot afford our children not going to schools," he asserted, noting that the measure details the obligations of the Centre and the states for providing free and compulsory education to children.
The Bill also seeks to do away with the practice of schools taking capitation fees before admission and subjecting the child or parents to any screening procedure. Sibal said it would be up to the states to implement the policy of reservation in admissions. Responding to members' concern on the financial requirement of the gigantic task, he said a group was on the job which would provide inputs to the 13th Finance Commission before completion of its term in October this year.
He said that minority education institutions should also focus on giving education to those disadvantaged within the community.
The Bill seeks to achieve ten broad objectives which include free and compulsory education, obligation on the part of state to provide education, nature of curriculum consistent with Constitution, quality, focus on social responsibility and obligation of teachers and de-bureaucratisation in admissions.
Funds???
The biggest challenge staring at the central and state governments in the implementation of the law, however, is the funding for the mechanisms and structures the act demands.
The government has arrived at a figure of Rs 1,71,000 crore over the next five years — an amount that states have to share with the Centre.The HRD ministry plans to approach the cabinet with a proposal for a 65:35 funds sharing ratio between the Centre and the states. The Centre will bear 90 per cent of the financial burden for the northeastern states.
States have objected to this fund-sharing proposal. Most states are refusing to shell out more than 10 per cent of the expenditure.
Hailed By all
Child rights campaigners have hailed the act, but they also point out that many challenges lie ahead in turning the legal right into a reality.
UNESCO, ILO and UNICEF today joined forces in applauding the ground-breaking Right to Education Act, legalising the right to free and compulsory education for all children between the ages of 6 and 14 in India. "Tens of millions of children will benefit from this initiative ensuring quality education with equity," said Karin Hulshof, UNICEF Representative in India. "RTE will propel India to even greater heights of prosperity and productivity for all guaranteeing children their right to a quality education and a brighter future."
The Challenges?
One of the greatest challenges will be making enough trained teachers and facilities available in state-run schools, especially in rural areas. According to estimates, more than a million more new teachers will be needed.
Creative and sustained initiatives are crucial to train more than one million new and untrained teachers within the next five years and to reinforce the skills of existing teachers to ensure child-friendly education. Bringing eight million out-of-school children into classes at the age appropriate level with the support to stay in school and succeed poses a major challenge. Substantial efforts are essential to eliminate disparities and ensure quality with equity.
Families and communities also have a large role to play to ensure child-friendly education for each and every one of the estimated 190 million girls and boys in India who should be in elementary school today. School Management Committees, made up of parents, local authorities, teachers and children themselves, will need support to form School Development Plans and monitoring. The inclusion of 50 per cent women and parents of children from disadvantaged groups in these committees should help overcome past disparities.And educated boiling blood young dudes should take an active part in such committees.
how different our life would have been had we not been educated? difficult to imagine, isn't it . We all come across downtrodden children doing all sort of labour in front of our eyes every day , but we all ignore as we are very busy with our own life, and we all feel that we can't do anything in this matter - but why not do something different rather than just ignoring - why not we voice out for these ignored beings , why not we fight for their education, and if you have enough money why not sponsor a child's education - ofcourse 99 % of the time no one will hear us - but that 1 % success is more than enough ...........