Video Highlight- 28 years of wait over- India the World Champion of Cricket - HURRAH!!!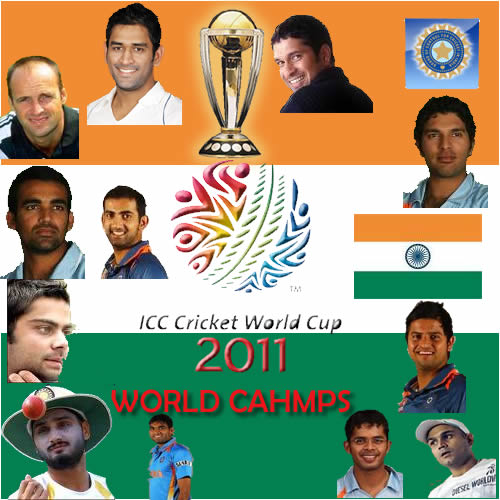 INDIA THE WORLD CHAMPIONS
We don't know Olympic, we don't know tennis , we don't know football, we don't know beckham, rooney... we don't know our national game hockey ... we don't know anything -- what we know is only Cricket and Indian cricket team has did it for us .. it won the Emperor of all cups WORLD CUP - WHAT ELSE CAN MAKE ONE BILLION PLUS INDIANS DANCING WITH JOY!!!! jay hO.....
It all went as per the script - may be a bit here and there . India wins the World Cup 2011. A feat that India last did in 1983 and it's billion plus cricket savy nation waiting for the moment. The happiness can be heard in the uproar at the stadium and the sounds of crackers here at a small remote village called Gooty where i am typing.
The emotions pitch can be seen from the tears of Harbhajan . A joy every Indian will remember for another four years. A victorious lap for sachin on the shoulders of this team members. I really can't afford to see the emotions in sachins face..... It's a moment of once in a life time. Yes India last won world cup before I was born and now it won again... THANK GOD -----THANKS SACHIN......
Captain Dhoni really played a great innings that will be in the memories of all Indians.. All critics of Dhoni include me who scolded him as the only non contributing member of the team in this world cup --today contributed in a befitting way... Here ARE videoS - Full Match Highlights- Gambhir's Knock and Dhoni's captain knock -- and fourth video what sachin got to say of the victory..watch enjoy and share
Before signing off ..When India won Kargil War - we celebrated but I can't recall grand celebrations - What Cricket can do War Can't !!! Peace to the world !!! No Wars -- ONLY CRICKET>>>>>>
Highligths
<