OCEASAT-2 is doing great job - ISRO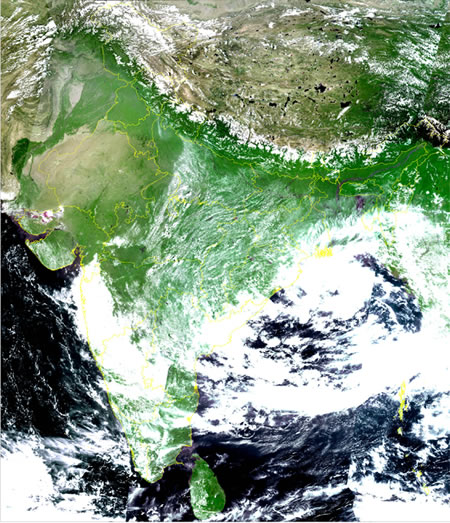 An Image from Oceansate-2 Source:ISRO
The ISRO's oceansat-2 is doing great job beaming out high quality images. After Chandrayaan -I 's finding of water on moon, ISRO is all geared up to make more Impacts(ofcourse not on moon till Chandrayaan -II). ...
India's Oceansat-2 and other six nano satellites for international customers were placed by the Polar Satellite Launch Vehicle (PSLV-C14) launched from Satish Dhawan Space Centre SHAR, Sriharikota on September 23, 2009 in the desired orbit. All the instruments onboard Oceansat-2 are working satisfactorily.
Oceansat-2 payloads are providing good quality data
All the three payloads on-board the Oceansat-2, namely
Ocean Colour Monitor,
Scatterometer,
Radio Occultation Sounder for Atmospheric Studies,
have been successfully turned on providing good quality data.
The Ocean Colour Monitor (OCM), a multi-spectral imaging radiometer, provides information on chlorophyll concentration, and helps locating Potential Fisheries Zones. The Scatterometer, an active microwave sensor, facilitates retrieval of sea-surface wind speed and direction, and monitoring polar sea-ice. The Radio Occultation Sounder measures the parameters pertaining to lower atmosphere and ionosphere The data provided by the different sensors on-board Oceansat -2, will also facilitate monitoring of turbidity and suspended sediments, sea-state and sea-surface winds, and meteorological/climatological studies. The satellite collects data over the entire globe once in two days.