Prithvi II missile successfully tested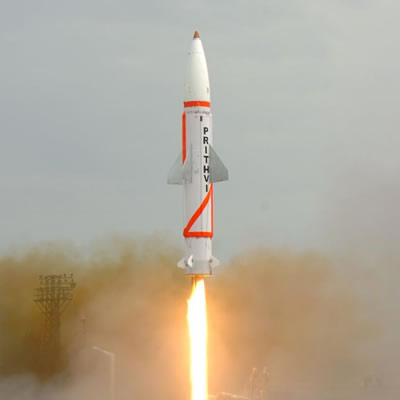 Nine-metre tall Prithvi-II is a single stage liquid fuelled missile and has a diameter of one metre. It is capable of carrying a 500-kg warhead.
In quick succession, India tested two advanced versions of the nuclear-capable Prithvi-II ballistic missile, with a strike range of 350-km, from the Chandipur interim test range off the Orissa coast on Monday. ''The two P-II missiles, which can carry 500-kg warheads, were successfully launched within minutes of each other by the armed forces as part of operational exercises... Aimed at two different targets 350 km away from the launch point, the missiles met all mission objectives,'' said a defence ministry official. 'The missiles were test-fired from mobile launchers around 10.30 am. Two naval ships tracked and monitored both the missiles hitting the targets very accurately,'' he added.
The successful test-firing established the Army's capability to attack multiple targets simultaneously. Both missiles met the full mission objectives, the sources said. The missiles were flight-tested against two targets, located 350 km away from the launch pads. The advanced inertial guidance system of the projectiles enabled them to hit the targets within a few metres of Circular Error Probability (CEP). Two naval ships anchored at target points tracked and monitored the missiles hitting the targets accurately, while the radars and electro-optical systems located along the east coast observed the flight path along the trajectory.
About Prithvi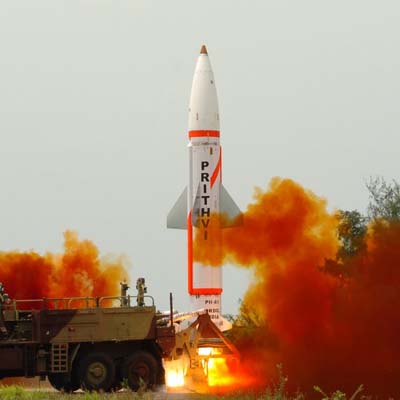 Prithvi is a Surface-to-Surface Battle field Missile. It uses a single state, twin-engine liquid propulsion system and strap-down inertial guidance with real-time software incorporated in the onboard computer to achieve the desired accuracy during impact. Prithvi has higher lethal effect compared to any equivalent class of missiles in the world. Prithvi is a unique missile today having manoeuverable trajectory and high level capability with field interchangeable warheads. Its accuracy has been demonstrated in the development flight trials. Flight trails for Air force has been completed. This system is now being configured for launching from ship, increasing its capability as a sea mobile system.
Prithvi was initially supposed to be a 150-km ''tactical'' battlefield missile with conventional warheads but later its role was expanded to include the ''strategic'' one as well with nuclear payloads. With the 700-km Agni-I and 2,000-km-plus Agni-II ballistic missiles still to be inducted into the forces, the advanced version of Prithvi is currently the mainstay of SFC. The Army had earlier ordered 75 Prithvi-I and 62 Prithvi-II missiles worth around Rs 1,500 crore, while IAF had gone in for 63 Prithvi-II missiles for Rs 906 crore. The Navy, in turn, has orders worth Rs 116 crore for Dhanush (a Prithvi variant with a 330-km range) missiles for its two ''dual-tasked'' warships, INS Subhadra and INS Suvarna.