Do you know how many Slum Childrens die each year in India?
You might have that movie Slum Dog Millionaire somewhere lingering in your sub-conscious/conscious memory. It got Oscars, we people celebrated AR Rahmana's "Jai Ho" song getting oscar, well and good. At that time there were some questions by some media people/celebraties that they are portraying India in an ugly and shameful manner. May be - but it is no far from reality , why should we hide and get false pride by showing our great Old monuments left by our ancestors and some tourist spots to outside world (one of my old post - Slum Dog Millionaire - Pride or hide? - please have a look).
So now Save the Children Report says - two million slum children die every year in India.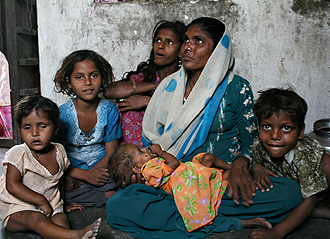 A rather disturbing pic- but the true face of Poor Indian mother lots of love to share, but how to feed? how to bring up?
India's growing status as an economic superpower is masking a failure to stem a shocking rate of infant deaths among its poorest people. Nearly two million children under five die every year in India – one every 15 seconds – the highest number anywhere in the world. More than half die in the month after birth and 400,000 in their first 24 hours. A devastating report by Save the Children, due out on recently, reveals that the poor are disproportionately affected and the charity accuses the country of failing to provide adequate healthcare for the impoverished majority of its one billion people. While the World Bank predicts that India's economy will be the fastest-growing by next year and the country is an influential force within the G20, World Health Organisation figures show it ranks 171st out of 175 countries for public health spending.
Malnutrition, neonatal diseases, diarrhoea and pneumonia are the major causes of death. Poor rural states are particularly affected by a dearth of health resources. But even in the capital, Delhi, where an estimated 20% of people live in slums, the infant mortality rate is reported to have doubled in a year, though city authorities dispute this.
Save the Children says millions of mothers and their babies are simply not getting the skilled medical care they need, and the poor, in particular, have been left behind. "For many poor parents and their children, seeking medical help is a luxury and health services are often too far away," said Shireen Miller, its head of policy and advocacy in India. "The difference between rich and poor is huge. In a city like Delhi it is more stark because we have got state-of-the-art hospitals and women giving birth under flyovers. The health service has failed to deliver. They are supposed to reach the poorest, but they have not."
According to the report, the national mortality rate for under-fives in the poorest fifth of the population is 92 in 1,000 compared with 33 for the highest fifth. The national average is 72.
The Save the Children report says nearly nine million children die worldwide every year before the age of five. India has the highest number of deaths, with China fifth. Afghanistan has the dubious distinction of featuring in the top 10 of total child deaths and of child deaths per head of population, a list topped by Sierra Leone.
So as the Popular saying Goes " Rich Gets Richer (and so more healthier) and Poor gets poorer (and dies) " In India... It's a ground reality - either we accept or don't. And I really didn't heard of any measure to stop that. Scolding politicians and solacing self with "Mera Bharat Mahan" ---what else to do?
Your Valuable opinions please!!!