Dance- the Soul Liberator
What will you do if you are happy? – You may smile, laugh and even cry. What if you are very, very happy? You may sing. What if you are very, very, very … happy? You must be dancing. I feel dance is the ultimate expression of joy, a joy which is beyond all calculations. Dance may also be the expression of other emotions but the joyful dance is more predominant and versatile. Its a state of eternal bliss where you get lost and rediscover yourself. Animals may not smile or laugh, but they also dance to communicate and express their joy. It is the animal instinct surviving predominantly in man however civilized he may become. It preceded all civilized inventions like language, culture, art and civilization. There are various forms of dances all over the world and some new forms may be getting added. Dance is always accompanied by music. Dance and music must have evolved together entangling each other and might have got separated with evolution. Music can exist without dance but dance can't exist in separation.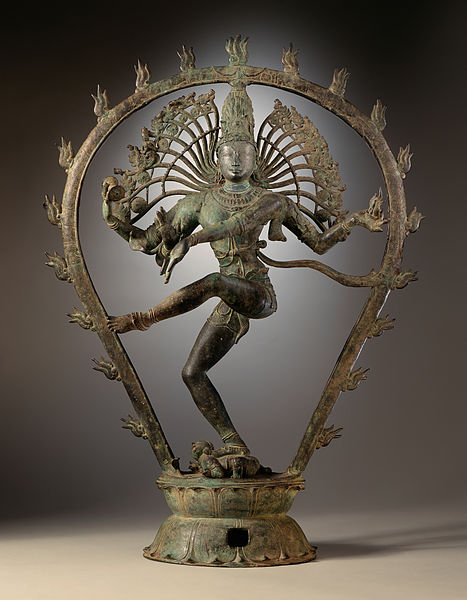 Nataraja Statue-

Los Angeles County Museum of Art
Dance played a major role in all most all civilizations. The role of dance in Indian civilization and culture requires specific mention. The Indian art and culture revolves and evolved around various dance forms. The murals and sculptures on the walls had significant element of dance in them. If one art form depicts the vividness and variety of Indian art – it is the statute of Dancing Natarja. It is one of the most internationally acclaimed symbol of Indian art. It depicts Lord Shiva performing Tandava. Lord Shiva is also known as Nataraj, the Dancing God. Some scholars believe that there are seven different types of Tandava. The tandava performed with joy is called Ananda Tandava and that which is performed in violent mood is called Rudra Tandava. The other types of tandava identified are Tripura Tandava, Sandhya Tandava, Samara Tandava, Kaali Tandava, Uma Tandava and Gauri Tandava. However, there are few people who believe that there are 16 types of Tandava.
'Anandatandava,' means the Dance of Bliss, and symbolizes the cosmic cycles of creation and destruction, as well as the daily rhythm of birth and death. The dance is a pictorial allegory of the five principle manifestations of eternal energy — creation, destruction, preservation, salvation, and illusion. So dance was not seen just as an expression of joy or a way of communication but it was understood as a much broader entity encompassing all the existence of mankind. I read somewhere a quote "No sane man will dance". Whatever the context was, I feel dance can make man insane – making him loose all his senses and get engulfed in eternal bliss
I feel dance can be broadly classified into two types – systematic and chaotic. Systematic is one where all forms of known dances like classical, western, semi western, jazz, rock, ballad etc. fall in, whereas chaotic is one which is beyond all forms. It is something like madness. I feel this is the real form of dance. Systematic dance means following some rules and regulations – but chaotic is where there is no rule (except to be safe). It is for liberation of soul where it dances in the joy and is the ultimate level of expression.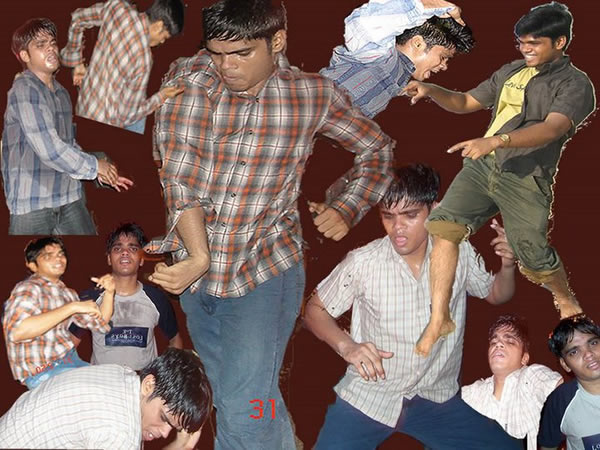 Experience the Joy of MAD DANCE

I haven't experienced the joy of deep meditation, but dancing as you like should be no less than the bliss of meditation. That may be the reason Lord Shiva who is often depicted in meditative posture is also depicted as Nataraja. Mad dance follows no set rules, shouldn't have any requirements of fitness, flexibility or range of movement. It is doing what all our body can. It is giving chance to various organs which were under the discipline of mind, to express themselves – freedom of expression (a fundamental right). I feel dance gives such a "kick" no brand of whisky/rum can give (alcohol is injurious to health but dance is healthy). The health benefits of dance are well known. Apart from physical fitness and endurance benefits dance gives solace and mental peace.
I am writing with no authority but what I have experienced and feel !!! As I am out of those good old student days where late night dance parties were great fun – I crave sometimes to blow out on (dance) floor. But now-a-days thanks to various TV programs – the craze for dance is escalating. But that's the formal dancing that is growing, a dance to impress the crowd – rather than soul liberating blissful endeavor. Whatever it may be – dance is truly soul liberating.
So guys what I say is – if you think you can't dance – keep that thought aside and never miss a chance to dance and look crazy and insane. Enjoy the unmindful and the soul liberating journey. I have nothing to say for well trained dancers – but for others join a dance class or just keep the music on and spend sometime in alone to discover how good dance you are. Mark it, you will be surprised to know that you are indeed a great dancer ……
And I just came across a funny idea to make non dancers dance (Source NDTV Good Times Facebook page)