A Healing Discovery on Youtube: Medicine Buddha Mantra
When one had a bike accident resulting in a fractured knee, Youtube videos on Android Phone are soothing for spending long hours lying on the bed. I had one such accident, which resulted in Avulsion Fraction of Tibia where PCL joins (I will further elaborate it on another post). Doctors advised for complete bed rest for three weeks. So during this unexpected time break, I started searching Youtube for videos on Aliens, UFOs, Inspirational videos and other stuff including songs and movies for passing time. May be due to some spiritual call I also searched for Mantras/Magical Words on listening to which healing may improve . Ofcourse it is just my belief and I have no idea whether Mantras do help in healing? However they do calm the mind and help generate the peaceful environment which can further help in healing.
Some of the Mantras which I came across on youtube and found Venerating –
·
Green Tara and White Tara Mantras..
Out of which I would now like to share about the Medicine Buddha Mantras. First Listen to this Beautiful Mantra and Further Read on -
The Beautiful Medicine Buddha Mantra
Ancient teachings tell us that merely seeing the Medicine Buddha, or even seeing an image of the Medicine Buddha, or hearing the name of the Medicine Buddha, can confer inconceivable benefits. This is shorter version of the Medicine Buddha Mantra. You can search more videos of Medicine Buddha on Youtube.
The Origin of Medicine Buddha
There are many subdivisions within Buddhism, but most can be classified into three major branches: Theravada ("Way of the Elders"), Mahayana ("Greater Vehicle") and Vajrayana ("Diamond Vehicle"). Theravada and Mahayana Buddhism went their separate ways in the first century AD. Mahayana then subdivided into several diverse schools, such as Zen, Pure Land and Nichiren, many of which flourish today in East Asia. The Vajrayana Buddhist tradition is an esoteric sect that is predominant in Tibet and Nepal.
The Mahayana form of Buddhism tends to be more religious in nature than its Theravadan counterpart. It often includes veneration of celestial beings, Buddhas and boddhisatvas, ceremonies, religious rituals, magical rites, and the use of icons, images, and other sacred objects.
It is in Mahayana, the dominant Buddhist tradition of East Asia that the Medicine Buddha first appears. Medicine Buddha is the common nickname of Bhaisajyaguru, also known as the Master of Healing or the Buddha of healing. Bhaisajyaguru is described in the Bhaisajyagurus Sutra as a bodhisattva who made and fulfilled 12 vows, two of which were related to healing. Veneration of this Lord of Healing became one of the most popular and widespread devotional groups.
According to Mahayana tradition there are infinite Buddhas, bodhisattvas, and deities. They represent various aspects of the absolute Buddha-nature, such as compassion, wisdom, power, and emptiness. The Medicine Buddha embodies the healing aspect. He was worshipped as the dispenser of spiritual medicine that could cure spiritual, psychological, and physical disease.
But this Buddha is not worshipped simply for healing powers alone; he is the form of the Buddha-nature that we aspire to realize in ourselves. Through the practice of meditation on the Medicine Buddha, one can generate enormous healing power for self and for the healing of others.
More Information - Wikipedia article on Bhaisajyaguru (Medicine Buddha)
-http://www.dharma-haven.org/tibetan/medicine-buddha.htm
-http://www.souledout.org/wesak/medicinebuddha.html
The Image and The Mantra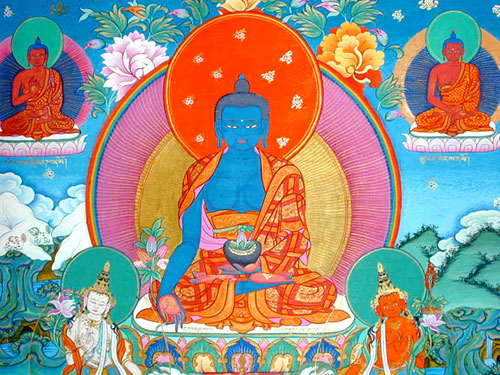 "If one meditates on the Medicine Buddha, one will eventually attain enlightenment, but in the meantime one will experience an increase in healing powers both for oneself and others and a decrease in physical and mental illness and suffering." —Lama Tashi Namgyal
The Medicine Buddha is typically depicted seated, wearing simple clothes, with a jar of medicine in his right hand and the left hand held up in the gesture of fearlessness.
In Tibetan images of the Medicine Buddha the left hand typically holds a blooming myrobalan plant. Tibetan medicine recognizes three basic types of illness, the root causes of which are the conflicting emotions -- passion, aggression, and ignorance. Myrobalan is the only herb in the Tibetan pharmacopoeia that can aid in healing each of these three types of diseases. This is like the action of the Buddha of Healing, who has the power to see the true cause of any affliction, whether spiritual, physical or psychological, and who does whatever is necessary to alleviate it.
In the Bhaiṣajyaguruvaiḍūryaprabhārāja Sūtra, the Medicine Buddha is described as having entered into a state of samadhi called "Eliminating All the Suffering and Afflictions of Sentient Beings." From this samadhi state he spoke the Medicine Buddha Dharani.
namo bhagavate bhaiṣajyaguru vaiḍūryaprabharājāya
tathāgatāya arahate samyaksambuddhāya tadyathā:
oṃ bhaiṣajye bhaiṣajye mahābhaiṣajya-samudgate svāhā.
The last line of the dharani is used as Bhaisajyaguru's short form mantra. There are several other mantras for the Medicine Buddha as well that are used in different schools of Vajrayana Buddhism.
Longer Version Mantra Chanting
A book (pdf) on Medicine Buddha - Sutra Of The Medicine Buddha