Thousand dancers pay tribute to 1000 year old Big Temple - Video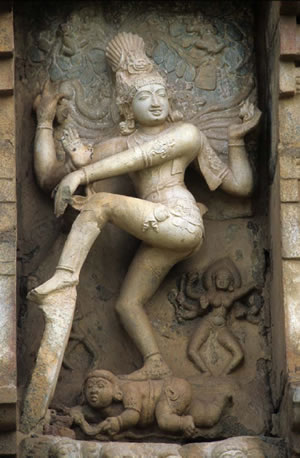 Dancing in Bliss unaware of the petty human problems and happenings - Is a great way to reach the Lord Shiva
Padma Bhushan Padma Subrahmanyam led the millennium dancers, as Chief Minister M. Karunanidhi, his ministerial colleagues and thousands of people from the town and nearby places watched.
The 1,000-year-old Big Temple, built by the emperor Rajaraja Chola in Thanjavur and regarded as an architectural wonder, was the venue of a spectacular Bharatanatyam performance on Saturday. The temple was inaugurated by the King in 1010 AD so completing 1000 years by this year. The temple stands Big and tall standing all the adversities of climate . The temple is made of the toughest stone the Granite and can stand even for another millennium without a dent. To know more about Big Temple,videos,images -> Click Here . This temple is a part of "Great Chola Temples " which is a World Heritage Site recognized by UNESCO

As the highlight of the millennium celebration of the temple, a world heritage monument, over 1,000 dancers, predominantly women, led by Padma Subrahmanyam, displayed their talent for about 45 minutes.

Watched by Chief Minister M. Karunanidhi, his ministerial colleagues and thousands of people from the town and nearby places, the performance was meant as a tribute to the Chola emperor and the greatness of the temple that withstood the test of time.

Dressed in colourful costumes, the dancers started with 'Ganapathy Kauthuvam,' followed it up with 'Thirvisaipa songs of Karuvur Devar' and concluded with 'Sivapanchaksharam, stotras of Adi Sankara.' It was a rare sight to see the hundreds of artists dancing around the Nandhi Mandapam with the 216-ft-tall Vimana of the Big Temple in the backdrop.

One thousand years ago, dancers patronised by Rajaraja Chola paid their obeisance in the same temple to Lord Brihadisvara every day, according to inscriptions. On Saturday, the dancers gave their performance in praise of the emperor and the temple's glory besides paying obeisance to the Lord.
Dr. Subrahmanyam thanked the artists who came to the programme at their own expense. She appealed to the Chief Minister and the Archaeological department to see to it that an inscription referring to the dance programme was engraved in the temple. .
Videos of The Performance
Here is a small video on the program where Thousand Dancers performed in praise of Lord and the Temple. It is in tamil . Initially the announcer speaks a few minutes in tamil . I also don't understand Tamil -but it is worth a watch . Watch it in Full and add your comments..
First Video - Ganapathy Kouthuvam
Second Video - Karuvur Thevar