DAMAN - Laid Back and Sleepy Town with beautiful beaches and sea to walk upon
It is always better not to spend weekends sleeping all the day. Instead you can go to a sleepy town

One such weekend when at Vadodara, we thought of exploring the unexplored- DAMAN (UNION TERRITORY). When proposed our group of three were skeptical, because generally people don't know DAMAN as a tourist destination. To encourage people further, I added we can cover silvassa also.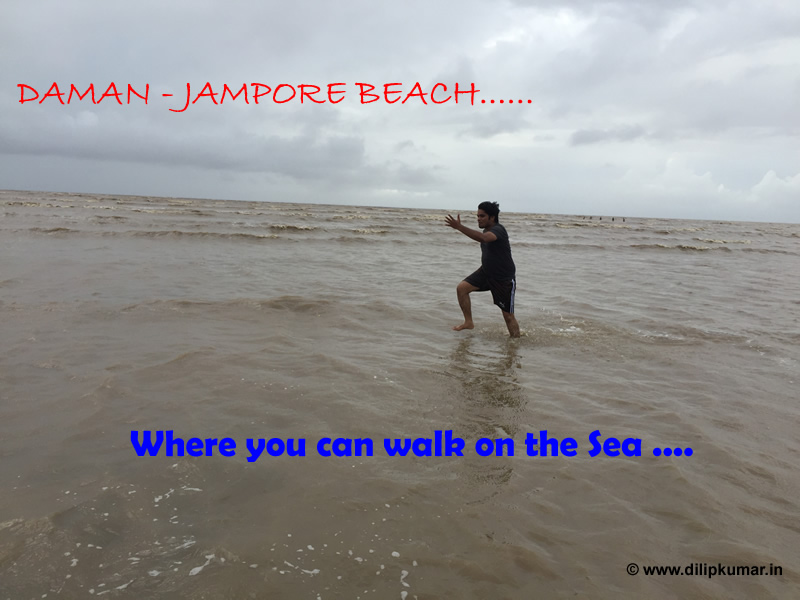 How the tour went on, read further ...
The ex-Portuguese enclave of Daman (Damao) is a world of its own. The charm of this place lies in its fine forts and churches, in which you can get a whiff of Portuguese preeminence. This quaint union territory had a serendipitous discovery too. The story goes like this. The first Portuguese Captain Diogo de Mello, while on his way to Ormuz, met with a violent cyclone, and got lost. When all his hopes were gone, he suddenly found himself at the Daman coast. Soon after it was settled as a Portuguese colony and remained so for over 400 years.
A larger fort was built in Motidaman in the 16th century to guard against the Mughals who ruled the area until the Portuguese arrived. It still stands today as large fortified walls. Today the majority of the municipal government offices are situated inside this fort.
Daman was incorporated into the Republic of India in December 1961 after a battle between the Portuguese and the Indians. The battle left four Indians dead and 14 wounded,and ten Portuguese dead and two wounded .
This Silent little town is not much popular as a tourist destination compared to its brother DIU Island.The beauty of the Union Territory is such that it was once known as Kalana Pavri or Lotus of Marshlands. A laid back little town, Daman is divided by the Damanganga river and emanates a charm that's whimsically untamed, but definitely not cruel.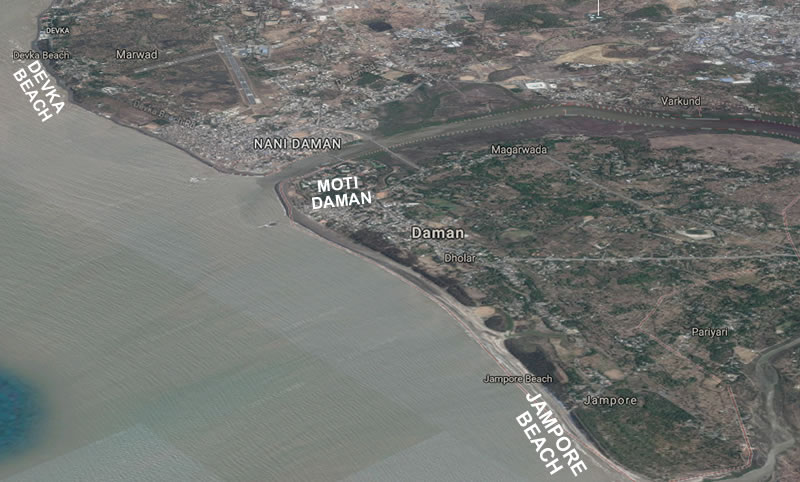 The City of DAMAN as shown in the image above is divided by the Daman Ganga River in to two - namely Nani-daman (Nani meaning "small") and Moti-daman (Moti meaning "big"). Ironically, Nani-daman is the larger of the two towns. Moti Daman is more of the original DAMAN whereas Nani DAMAN is the DAMAN which has expanded there upon and houses all the major residential areas. There are two important beaches - devka and jampore.
We have landed at Vapi Railway station the nearest rail head to daman on Friday night and took a vehicle from Vapi to rest house. Immediately we went to Jampore Beach. As it is night and dark, there was nothing to see and there were lot of weeds on the beach. It left an impression that it is no good beach, but the impression changed the next day which I will tell about in the few lines after.
Saturday early morning when the slight drizzle rhytmically wet the floor, we set upon a morning walk. Walking from the circuit house we entered Moti DAMAN. The below Google Map snapshot shows the Moti Daman with the walls.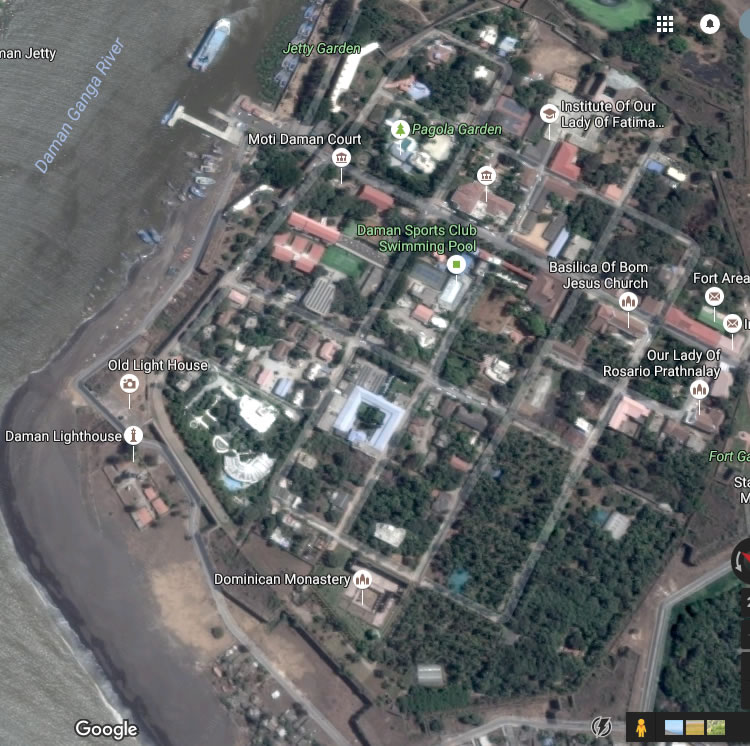 All the tourist attractions are in Moti Daman and one or two in the Nani Daman - across the Daman Ganga River. The major attractions are appearing in the Map above - watch tower, church, monastery and above all the big walls . These are not something astonishing or out of the world, but they are just reminiscent of the portugese who were there. You are not going to get the feeling that you are walking in Medieval European City, but definitely you can feel something different and something good.
As you exit Moti Daman there are few tea shops and Jetty. There are many boats (fishing or tourist?) which were draged onto the shore. No idea whether they are completely dis-functional or they are run sometime in the year. It is nice place to spend some hal-an-hour in the morning with Big Walls on the back and a river-sea confluence in the front. Once you cross the small river, you will land in Nani Daman, which we have visited in the evening. In the Nani there is good old church complex (Our Lady Of Sea) with nice big well mainataained walls all around. One can stroll on the big walls - looking like Great Wall of China ( I haven't seen The Great wall of china

). Contrastingly the walls of Moti Daman which are further bigger doesn't have proper approach and are ill-maintained.
| | | |
| --- | --- | --- |
| | | |
| Moti DAMAN FORT Entrance | BOM JESUS CHURCH | Nani Daman Entrance |
After seeing Moti Daman, Nani Daman, Mirasol Resort (seems to be ok) and some experimenting in Silvasa (will post a separate post on Silvasa) we checked upon Devka Beach. It is a Decent Beach. But it is more for who are fond of ALCOHOL. As Gujarat being a dry state, people land here searching for a place to drink. However with all three of us being teetotallers, we couldn't explore that arena.
Jampore Beach
So after exploring much of Daman and thinking what else to do , we have reluctantly landed on Jampore Beach. But this time we were early - by three or four in the evening. This time it is a different experience. It is completely different beach. You can see the first picture on this page. The beach is very shallow for quiet a long distance - may be few kMs. The waves are also smooth and gentle. One can easily walk for a Kilometer or more into the sea. The water looks slight brownish because of the black soil, but the water looks decent enough for a long bath or swim.
The gentle waves deposit a thin layer of soil on the hard rock, which take the shape of waves. When one walks on this wavy pattern soil in the sea, it gives a good massage experience to the foot.
There are some open top Nanos making a speedy trip on the beach for one or two hundred ruppes. There are some horses too. We have searched for para gliding, but they told as it is rainy season and the winds being rough - they don't allow para-gliding. We felt bit disappointed, but a long bath in the shallow sea made us much happier to forget the disappointments.
Final Words
There is nothing great in Daman that one has to make big plans to go, but it is definitely a nice weekend spot when you are nearby (from Vadodara , Mumbai etc.). There seems no major industry or livelihood for the local population. Most seems dependent on Agriculture and Fisheries. The cheap liqour available is also a spoiler for the economy of the region. We have travelled into the nearby villages, and overall it look likes a sleepy town. In generaly there is no proper cleanliness of the town, many places are littered. There seems to be no proper routine cleaning - or it may be that we have gone in the wrong time.
The Potential of DAMAN as a tourist spot is huge - but there seems to be no action plan for it. Whatever said and done, we have enjoyed our stay in the Union Territory.