Hylas, the broad band satellite will be ready by august for delivery : ISRO
UPDATE : HYLAS SUCCESSFULLY PLACED IN GEOSTATIONARY ORBIT ON 30 th NOVEMEBER Click Here for Details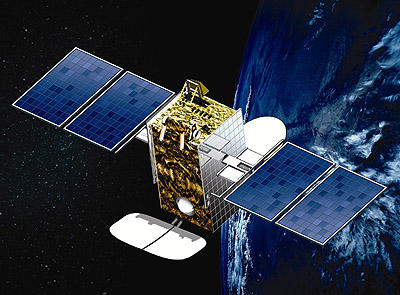 Artist's impression of HYLAS
HYLAS,( Highly Adaptable Satellite) is the name of a small geostationary communications satellite planned for launch on 15th November 2010. HYLAS is being constructed by EADS Astrium for the UK telecommunications company Avanti Communications Plc. Development of the satellite is being supported by a £23m investment from the British National Space Centre (BNSC).The satellite will be used mainly to provide broadband Internet access and to distribute and broadcast High Definition Television (HDTV).
HYLAS is based on the Indian Space Research Organisation's(ISRO) I-2K small satellite platform under a cooperative arrangement between EADS Astrium and ISRO/Antrix. The activities related to the realisation of Hylas satellite are progressing satisfactorily for delivery in August 2010 to the customer- - said in a update dated 2nd April on ISRO's website. So the schedule launch of Hylas can be by the year end of 2010.
In a recent interaction with media at banglore ISRO chairman, Dr K Radhakrishnan,said, "Next year, we will also sent microwave remote sensing satellite. This will give a boost for the country's remote sensing project. It will be helpful especially in our country as most of the time our country has cloudy sky. We can effectively remote sense areas for crops and flood purposes." He said this year, Resourcsesat- 2, Youthsat, GSAT-8, GSAT-5P, Megha Tropiques and HYLAS will be launched/manufactured by ISRO.
Hylas will provide 2Mbs net connections to rural and other areas where terrestrial broadband is unobtainable.Hylas will be able to provide broadband at speeds of 2Mbps (megabits per second) to some 350,000 customers in the UK.Hylas will be a dedicated broadband satellite for Europe, the first to use the Ka-band of radio frequency and, if successful, will be followed by two bigger spacecraft - known as Hercules.
The UK Hylas spacecraft, which aims to help bridge the "digital divide" by supplying space-borne broadband net access, has recently switched rockets.Its owner, Avanti Communications, signed a contract with Arianespace to use one of its launchers - either an Ariane 5 or a Soyuz. It was initially planned to be launched on Falcon9 but as Falcon is going some checks and with the availability of more funds Avanthi has gone for more reliable Ariane or Soyuz.