What cryogenic engine success means for Indian Space Research
The GSLV lifting off from Launch Pad at Sriharikota
LAUNCH VIDEO
We hear people often chiding , "its no rocket science" implying that rocket science is the most advanced of the technologies.The advancement in space research is no doubt the reflection of the advancement of science and technology of the country. Escaping out from the earth's gravity well, placing satellites in to the orbits of moon and other planets is no simple thing.
Indian Space Research Organisation (ISRO) since its inception in 1970s always kept pace with advancements in the space field. Chandrayaan-I and recent Mission to Mars are the most astounding examples of its capability. But its the success of indigenous cryogenic engine that was alluring ISRO for more than a decade.
After failure of the first attempt in August 2010, the Indigenous Cryogenic Upper Stage was successfully flight-tested onboard GSLV-D5 launch vehicle on January 05, 2014 from Satish Dhawan Space Centre SHAR, Sriharikota. In this successful flight of GSLV-D5, a communication satellite - GSAT-14 - was launched very precisely to its intended Geosynchronous Transfer Orbit.
After a smooth countdown of 29 hours, GSLV-D5 lifted off at 1618 hours IST at the opening of the launch window. All the important flight phases, namely, the core stage and strap-on stage propulsion, payload fairing separation, second stage propulsion, cryogenic stage propulsion and spacecraft separation, were executed as planned.
After a flight of 17 minutes 5 seconds, GSAT-14 satellite was precisely injected into a Geosynchronous Transfer Orbit with a Perigee (nearest point to Earth) of 175 km and an Apogee (farthest point to Earth) of 35,945 km with an orbital inclination of 19.3 degree with respect to the equator.
Immediately after the injection, ISRO's Master Control Facility at Hassan took over the control and commanding of GSAT-14. The solar panels of the satellite were deployed as planned and the satellite was oriented towards the Sun. The first orbit raising operation of GSAT-14 is planned at 0758 hrs IST on January 6, 2014. The remaining two orbit raising operations were successfully completed on January 7 and 9, 2014 and the satellite was placed in geostationary orbit.
The Indian Space Research Organisation (ISRO) was to launch this rocket last August but aborted the mission just hours before the deadline as the fuel started leaking from its second stage or engine.Engineers rolled the GSLV back to the vehicle assembly building, cleaned the launcher and replaced the first and second stages. ISRO attributed the leak to cracks inside the second stage fuel tank and quickly developed a new second stage with tanks made of a different aluminum alloy less prone to corrosion.
The mission's success means India now has the ability to put satellites weighing more than two tonnes in orbit, joining the elite club of the U.S., Russia, France, Japan and China who have mastered this perilous technology of using cryogenic propellants -- liquid oxygen at minus 183 degrees Celsius and liquid hydrogen at minus 253 degrees' Celsius.
Why cryogenic engine is important?
Cryogenic propulsion technology is a stepping stone for India's ambitions to develop larger launchers to haul heftier payloads to Earth orbit and toward interplanetary destinations.
A Cryogenic rocket stage is more efficient and provides more thrust for every kilogram of propellant it burns compared to solid and earth-storable liquid propellant rocket stages. Specific impulse (a measure of the efficiency) achievable with cryogenic propellants (liquid Hydrogen and liquid Oxygen) is much higher compared to earth storable liquid and solid propellants, giving it a substantial payload advantage.
India started development of the GSLV in the early 1990s planning to use Russian-built cryogenic engines and technical know-how, but the agreement was quashed in 1992 after U.S. authorities imposed sanctions on Glavkosmos, the Russian company providing technology to India. The United States feared the transfer of missile technology from the fractured Soviet Union to developing states.
India responded by purchasing seven readymade cryogenic engines from Russia and starting the design of an indigenous upper stage from scratch. With the succesful launch of GSLV-D5, ISRO can now rely on it to launch communication satellites weighing 2,000 kilograms or 2,200 kilograms. Thus, satellites like GSAT-6, GSAT-6A, GSAT-7A, GSAT-9, and Chandrayaan-II have been lined up for this launch vehicle. ISRO is also planning to launch an INSAT satellite.GSLV with indigenous cryogenic stage cuts cost by half. In the absence of GSLV, ISRO has to depend on Ariane rockets where the cost will be double.
While the GSLV can take up to five tonnes to such an orbit, the GSLV-III that we propose can take 10 tonnes. The programme is in the pre-project phase. Within one year, ISRO must have the next GSLV flight. If its reliability is proven, ISRO can look for commercial opportunities in the global market.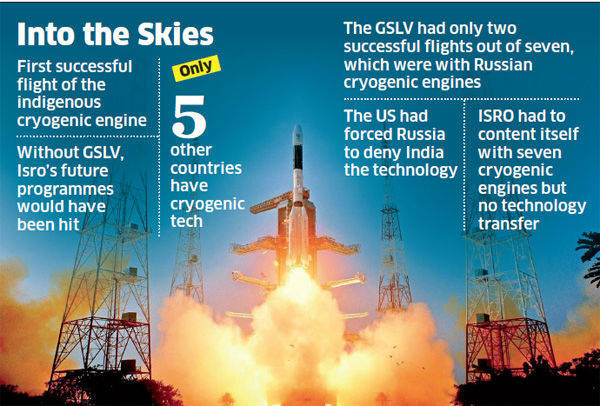 Two decades of efforts..
It is more than 20 years since Isro ventured to design the cryogenic engine. The reasons for such a long delay are many. For launch vehicles, there will be solid propellant systems, liquid propellant systems, and cryogenic systems. The last is extremely complex. Very few countries have the capability. Isro commenced work on solid propellant systems in the 1960s and has gained a lot of expertise. Likewise, for the liquid propellant systems. For the cryogenic systems, work began from scratch in 1992 by mobilising teams, developing facilities for testing the engine and stage (allied systems) in-house, and creating infrastructure in Indian industry for fabrication and mobilisation of materials required for the engine and stage.
In 2003, the engine was qualified. In cryogenics, one has to deal with temperatures which are very low on one hand and very high on the other. The materials used must withstand such a large temperature regime. The pump, bearings and seals must work in such conditions. The ignition process must be initiated at the precise moment. And, there should be infrastructure in place to produce liquid hydrogen and liquid oxygen of highest purity. Handling them at such low temperatures is a major challenge. Even a gas bubble can stop the pump, resulting in failure of the mission. Better late than never, it is really a proud moment.
Ahead..
ISRO is now geared up for the 630 tonnes light off weight GSLV Mark-III rocket. The GSLV-III or Geosynchronous Satellite Launch Vehicle Mark III , is a launch vehicle currently under development by the Indian Space Research Organization. GSLV Mk III is conceived and designed to make ISRO fully self reliant in launching heavier communication satellites of INSAT-4 class, which weigh 4500 to 5000 kg. It would also enhance the capability of the country to be a competitive player in the multimillion dollar commercial launch market. The vehicle envisages multi-mission launch capability for GTO, LEO, Polar and intermediate circular orbits.
GSLV-Mk III is designed to be a three stage vehicle, with 42.4 m tall with a lift off weight of 630 tonnes. First stage comprises two identical S200 Large Solid Booster (LSB) with 200 tonne solid propellant, that are strapped on to the second stage, the L110 re-startable liquid stage. The third stage is the C25 LOX/LH2 cryo stage. The large payload fairing measures 5 m in diameter and can accommodate a payload volume of 100 cu m. Realisation of GSLV Mk-III will help ISRO to put heavier satellites into orbit.