The Indian Dream Mission on right path to our neighbour The Red Planet Mars
| | |
| --- | --- |
| | |
| The PSLV-C25 blasting with all its force carrying the Mars Probe | Integrating the Mars probe to PSLV |
Mars Orbiter Mission is India's first interplanetary mission to planet Mars with an orbiter craft designed to orbit Mars in an elliptical orbit. The Mission is primarily technological mission considering the critical mission operations and stringent requirements on propulsion and other bus systems of spacecraft.
It all started when the Mars Orbiter Mission (MOM) probe lifted-off from the First Launch Pad at Sriharikota, Andhra Pradesh near Chennai, using a Polar Satellite Launch Vehicle (PSLV) rocket C25 at 09:08 UTC (2:38 PM IST) on 5 November 2013. Itt was launched into an elliptical parking orbit with a perigee (nearest point to Earth) of 248 km and an apogee (farthest point to Earth) of 23,550 km by India's workhorse launch vehicle PSLV on November 5, 2013. Following this, the apogee height of the spacecraft's orbit was successively raised through a series of seven altitude-raising orbital manoeuvres (instead of earlier six planned) to nearly 1,93,000 km before trans-Mars injection on 30 November 2013 (UTC).
It is India's first interplanetary mission and, if successful, ISRO would become the fourth space agency to reach Mars, after the Soviet space program, NASA, and European Space Agency.
The low cost mission is all praises for it's frugality and efficiency. But theres certain criticism too- the most significant of the snow balling was from the former ISRO chief Madhav Nair- In his media outing after the launch he quipped "At the outset, let me compliment the ISRO team for the perfect injection into orbit using a PSLV. As usual the PSLV has performed well. But the real journey starts now," adding that the ISRO has had to compromise so much on the project that it was akin to "cutting the head to fit the hat." He also stuck to his earlier stand that the whole mission was nothing more than a publicity stunt.
Another school of critics wondered why the country is spending $74 million on interplanetary travel while millions of its people remain poor and malnourished. But we can't feed millions of the poor even for a day with these 500 crores of ruppes. We the citizens of this country spend 5000 crores of ruppes for diwali crackers just for a matter of half day celebrations. With one-tenth of that cost when ISRO is sending a spacecraft to Mars, isn't it really a matter of pride. All space missions have huge spin offs. Technology should be left to follow its course. Compared to our billion dollars of weapon purchases and development- the cost of space missions is insignificant. I am one of those who believe that we on this planet should do whatever possible to find about the universe and it's secrets. When 44 years ago Neil Armstrong took that one small step for man, one giant leap for mankind - the whole world rejoiced and to date remains one of the biggest victories of our humans.
What happened So far in the long journey...
Date
Object Accomplished
11-12-2013
The first Trajectory Correction Manoeuvre (TCM) of Spacecraft was carried out successfully at 06:30 hrs (IST) by firing the 22 Newton Thrusters for a duration of 40.5 seconds. The spacecraft is travelling at a distance of about 29 lakh (2.9 million) km away from Earth.
04-12-2013
Spacecraft has traversed beyond the Sphere of Influence (SOI) of Earth extending about 9,25,000 km at around 1:14 hrs (IST) on Dec 4, 2013.
02-12-2013
Spacecraft has travelled a distance of 5,36,000 km by 17:00 hrs (IST) of Dec 2, 2013. It has crossed the distance to Moon's orbit around Earth (mean distance 3,85,000 km) this morning.
01-12-2013

Medium Gain Antenna of the Mars Orbiter Spacecraft is powered for long distance communication, subsequent to successful Trans Mars Injection (TMI) manoeuvre
Trans Mars Injection (TMI) operations completed successfully. The liquid engine burn time was 1328.89 sec and the imparted incremental velocity was 647.96 m/sec.
Trans Mars Injection (TMI) operations in progress.
Trans Mars Injection (TMI) operation began at 00:49 hrs (IST) on Sunday Dec 01, 2013.
Forward rotation of spacecraft, to put it into the right orientation to perform Trans Mars Injection (TMI) operation has been completed successfully at 00:30 hrs IST on Dec 1, 2013

16-11-2013

The fifth orbit raising manoeuvre of Mars Orbiter Spacecraft, starting at 01:27 hrs(IST) on Nov 16, 2013, with a burn Time of 243.5 seconds has been successfully completed. The observed change in Apogee is from 118642km to 192874km.

12-11-2013

Fourth supplementary orbit raising manoeuvre of Mars Orbiter Spacecraft, starting at 05:03:50 hrs(IST) on Nov 12, 2013, with a burn Time of 303.8 seconds has been successfully completed. The observed change in Apogee is from 78276km to 118642km.

11-11-2013

In the fourth orbit-raising operation conducted this morning (Nov 11, 2013), the apogee (farthest point to Earth) of Mars Orbiter Spacecraft was raised from 71,623 km to 78,276 km by imparting an incremental velocity of 35 metres/second (as against 130 metres/second originally planned to raise apogee to about 100,000 [1 lakh] km). The spacecraft is in normal health. Read More ..

09-11-2013

The third orbit raising manoeuvre of Mars Orbiter Spacecraft, starting at 02:10:43 hrs(IST) on Nov 09, 2013, with a burn time of 707 seconds has been successfully completed. The observed change in Apogee is from 40186km to 71636km

08-11-2013

The second orbit raising manoeuvre of Mars Orbiter Spacecraft, starting at 02:18:51 hrs(IST) on Nov 08, 2013, with a burn time of 570.6 seconds has been successfully completed. The observed change in Apogee is from 28814 km to 40186 km.

07-11-2013

The first orbit raising manoeuvre of Mars Orbiter Spacecraft, starting at 01:17 hrs(IST) on Nov 07, 2013 has been successfully completed Read More..

05-11-2013

PSLV-C25, in its twenty fifth flight, successfully launches Mars Orbiter Mission Spacecraft from SDSC SHAR Sriharikota
What's ahead...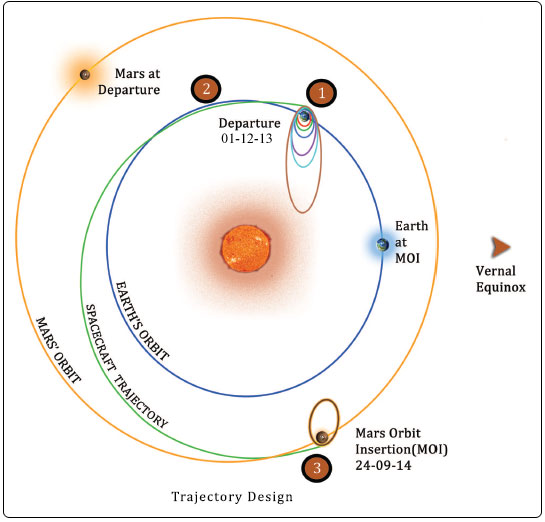 Now the Mars Mission is cruising on the Green Line and is Set to Catch on the Mars by 24th September 2014...
Geo-centric phase - revolving around the earth to get enough velocity to get out of earth influence
Helio-centric phase
Martian Phase
There are a lot of things that are challenging about space exploration. But some things are more hazardous than others. For this mission, the three most hazardous events were always the launch; the injection onto an interplanetary trajectory; and arrival at Mars. All three of these events have to go absolutely perfectly -- any problem would almost certainly mean failure of the mission. Mars Orbiter Mission has now successfully weathered two of the three biggest challenges. The last comes in September 2014, when the spacecraft will meet Mars.
When Mars Orbiter Mission arrives at Mars, the planet and the spacecraft will be on different heliocentric orbits. Mars Orbiter Mission must fire its rocket in the right direction, for long enough, to change its heliocentric orbit enough that Mars' gravity will take control of the spacecraft's path. There is only one chance to get that right. We can look at Japan for two tragic cases when this step did not go well. Japan's Nozomi, which was intended to be a Mars orbiter, suffered a series of setbacks, beginning with a short trans-Mars injection burn, and ending with frozen fuel lines. Nozomi reached Mars but was unable to fire its rocket to enter orbit. Unable to be grabbed by Mars, it continued on a heliocentric orbit and, too damaged to produce a useful science mission, it was shut down. Akatsuki,which was intended to enter orbit at Venus, suffered a catastrophic failure of its rocket motor partway through the burn. Akatsuki shifted its orbit somewhat, but not enough to be able to enter orbit at Venus. These incidents are just being enumerated to understand the complexities involved in this high-fi project. So even though if the final phase doesn't be successful, it should be understand that India has already succeeded in interplanetary travel and our scientific community should be encouraged for more such missions.
"India's Mars mission, with a budget of $73 million, is far cheaper than comparable missions including NASA's $671 million Maven satellite that is expected to set off for Mars later in November," reports The Wall Street Journal, which is among several publications noting the disparity between the cost of U.S. space missions and India's burgeoning program.
It's a first try at a very complex mission, one that is orders of magnitude more difficult than India's Chandrayaan-1 probe to the moon five years ago. Mars missions have a history of failure and fewer than half of them — launched by the U.S., Russia and the European Space Agency — have been successful. The USSR, Russia, US, Britain, Europe, Japan and China have all launched missions to Mars. There have been around 40 missions (but the total depends on how they are added up). Only the US, USSR and Europe have been successful to date.
A successful placement in Mars orbit would allow India to surge ahead of regional rival China, at least in the exploration of Mars. China's Yinghuo-1 spacecraft was to have reached Martian orbit in late 2012. But it was piggybacked on the Russian Phobos Grunt spacecraft, which became stranded in low-Earth orbit shortly after launch in November 2011.
And as Reuters points out, a successful Indian mission will have the effect of "positioning the emerging Asian giant as a budget player in the latest global space race."
And we as a nation really need some moments of pride to celebrate...