ISRO and EADS Astrium built HYLAS - broadband satellite succesfully placed in Geostationary Orbit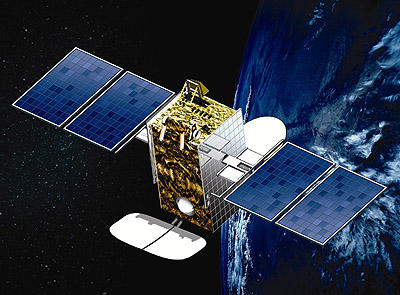 An Artist Impression of HYLAS
An advanced communication satellite HYLAS (Highly Adaptable Satellite) built by ISRO on a commercial basis in partnership with EADS-Astrium of Europe, was successfully launched on November 27, 2010 at 00.09 hours Indian Standard Time (IST) by the European Ariane-5 V198 launch vehicle. It has successfully reached the geostationary orbit on 30th November.
The 27th November launch took place from the Guyana Space Centre at Kourou in French Guyana. 35 minutes after its lift-off, HYLAS separated from Ariane-5 launch vehicle after reaching its intended elliptical Geosynchronous Transfer Orbit (GTO) with a perigee of 250 km, apogee of 35,906 km and inclination of 1.99o. ISRO's Master Control Facility (MCF) at Hassan in Karnataka successfully received radio signals transmitted by HYLAS and the satellite's health was normal.
Then ISROs Master Control Facility at Hassan immediately took over the control and command operations of the satellite. The perigee was raised from 250 km to 35,521 km by firing the satellite's Liquid Apogee Motor (LAM) of 432 Newton thrust level in three phases on Nov 28th (for 1 hour 19 minutes), on Nov 29th (for 30 minutes) and on November 30th (for about 4 minutes).
The HYLAS Satellite, presently in an orbit of 35,521 km (perigee) x 35,800 km (apogee) is in good health and in continuous radio-visibility from Hassan. One of its communication antennas has also been deployed successfully.
About HYLAS Joint Venture
HYLAS satellite developed for Avanti Communications, UK consists of ten high power transponders that use eight in Ka and two in Ku band frequencies. The satellite is designed to deliver high-speed broadband services through its spot beams over Europe. The satellite is expected to be operated from 33.5 deg. W longitude for European coverage.
The contract for building of satellite was won in the year 2006 after competing along other leading manufacturers of USA and Europe through the strategic alliance worked out between Antrix/ISRO and M/s. EADS Astrium of France. The alliance was formed to jointly develop communication satellites with ISRO platforms and Astrium payloads and market them internationally.
Astrium had the responsibility for overall program management and delivery of the communications payload and Antrix/ISRO provided the satellite bus and also performed the satellite integration and testing at ISRO's facility in Bangalore. HYLAS satellite weighing 2541 kg at lift-off is the heaviest satellite built by ISRO for I-2K bus capable of operating for over 15 years mission life as demanded by the customer. The satellite's solar panels generate a maximum of about 3200 Watts of power.
Antrix/ISRO is also responsible for the post launch operations of HYLAS, which are being conducted from the Master Control Facility, Hassan. The operations include firing of the satellite's Liquid Apogee Motor (LAM) in three phases to place the satellite in geostationary orbit which ISRO complete successfully .
Hylas will provide 2Mbs net connections to rural and other areas where terrestrial broadband is unobtainable.Hylas will be able to provide broadband at speeds of 2Mbps (megabits per second) to some 350,000 customers in the UK.Hylas will be a dedicated broadband satellite for Europe, the first to use the Ka-band of radio frequency and, if successful, will be followed by two bigger spacecraft - known as Hercules. The UK Hylas spacecraft, which aims to help bridge the "digital divide" by supplying space-borne broadband net access, has recently switched rockets.Its owner, Avanti Communications, signed a contract with Arianespace to use one of its launchers - either an Ariane 5 or a Soyuz. It was initially planned to be launched on Falcon9 but as Falcon is going some checks and with the availability of more funds Avanthi has gone for more reliable Ariane or Soyuz.
Initially ISRO said in a press release of April that HYLAS will be launched by the 2010 ending and it sticked to the schedule.